Mark Your Calendar
Sunday, 11 a.m., Jan. 29: Blooms and Brunch Workshop
---
NHS Board Member, Annie Oakley Expert Nancy Gruelich, 80
---
Presents
Blooms and Brunch Workshop
Sunday, 11 a.m. to 1:30 p.m., Jan. 29, 2017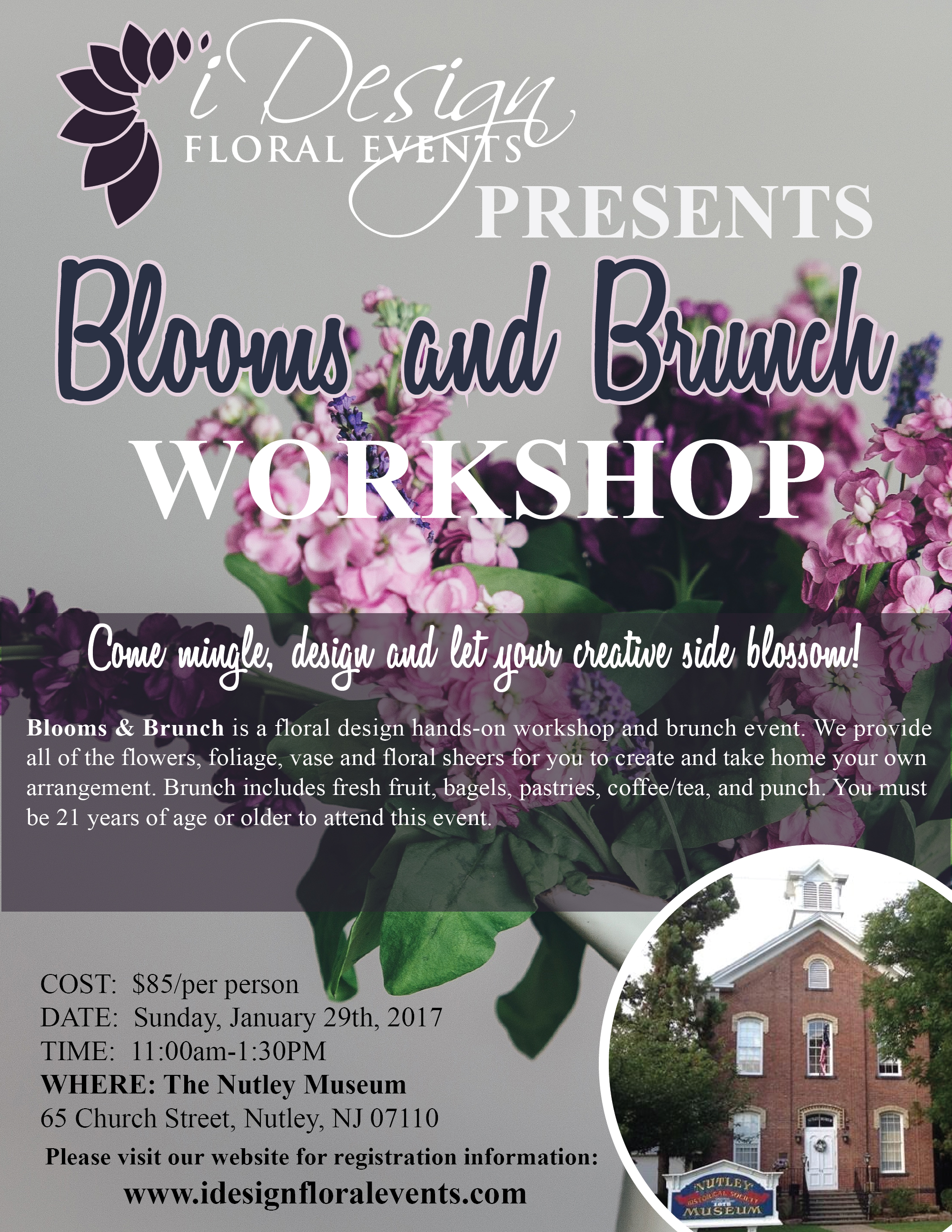 Whether your thumbs are green or grey, our upcoming Blooms and Brunch – A Flower Design Workshop and Brunch will be a welcomed treat. This workshop is a unique experience that you will enjoy and cherish for years to come. Participants will create Pinterest-worthy centerpieces in a gorgeous design studio setting. Our workshops are a hands-on horticulture experience. Come mingle, design and let your artistic side blossom.
Blooms and Brunch will provide all of the flowers, foliage, vase and floral shears for you to create and take home your own arrangement. Brunch includes fresh fruit, bagels, pastries, coffee/tea, and punch. You must be 21 years of age or older to attend this event. A percentage of the event proceeds will be donated to the Nutley Historical Society.
$85.00 per person - Register Here
---
Rent the historic first floor of the Nutley Museum for your event
Call Kerry Flynn, caretaker, to rent the hall, 973-667-1528
Seating for up to 70 people. Handicap accessible
Approximate opposing views of historic first floor hall (Annual Christmas Party)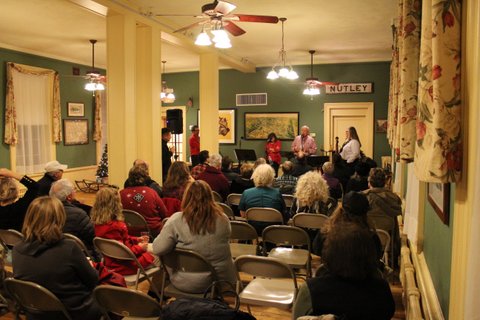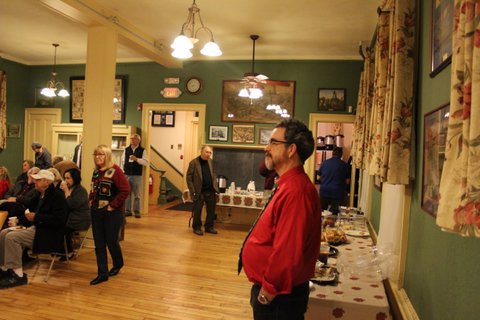 More information on the Nutley Museum, and meeting room rental with photos.
Save time, download forms:
---
Please join us
Art lecture and book launch by Nutley's own:
Gary Erbe, nationally known trompe l'oeil artist
Dec. 4, 2016
Please visit the Nutley Museum for a lecture and book signing by Gary Erbe, nationally known trompe l'oeil artist and Nutley resident at 2 p.m. on Sunday, Dec. 4, 2016.
Erbe will be presenting Footprints: The Art and Life of Gary Erbe, a newly released book published by The Butler Institute of American Art.
Signed copies of the book will be available for sale at the event. Light refreshments will be available and the Nutley Museum will be open for visiting.
About Footprints: The Art and Life of Gary Erbe
This large-format scholarly written volume is hard cover, 300 pages with over 250 illustrations. This is the most comprehensive book written about Gary Erbe, one of America's foremost trompe l'oiel artists.
In the book, a distinguished group of art historians focuses in depth on the artist's life and over fifty years of creating an impressive body of work consistent in quality and vision. Contributing writers are Dr. Thomas Folk, Dr. Carol Lowrey, Dr. Christine I. Oaklander, Carter Ratcliff, Dr. Michael W. Schantz and Dr. Louis A. Zona.
Erbe personally devotes one chapter of this 11-chapter book to the technical aspects associated with painting, including how to prepare canvas like the old masters, a special formula for the oil medium he uses, the proper varnish to use, and the palette.
This first edition book is limited in numbers and a must for art lovers and students of all ages.

"The Nutley Historical Society is thankful to Gary Erbe for the opportunity to premiere this important new book about a major American painter who resides in our town," says Barry Lenson, Art Director of the Nutley Museum. "Since Gary Erbe and his wife Zeny moved to Nutley in 2009, they have become champions of The Nutley Historical Society. Over the years, Nutley has been home to painters Albert Sterner, Arthur Hoeber, Reginald Marsh, Michael Lenson and others. Of them all, Mr. Erbe is probably the most renowned and respected."
About Gary T. Erbe
Gary T. Erbe, a self-taught painter, was born in 1944 in Union City, N,J., where he maintained his studio from 1972 until 2006. Unable to attend art school, he worked as an engraver to support himself and his family. In 1967, he discovered trompe l'oeil painting and its masters and found his artistic place. He enlarged the scope of nineteenth-century trompe l'oeil painting by adding the illusion of levitation and a near-magical juxtaposition of objects which, in his words, "in reality had no relationship."
Since Erbe decided to pursue his art full time in 1970, he has exhibited in both solo and group exhibitions in many of America's most important art museums. A partial list includes a 40-year retrospective exhibition that traveled to the Butler Institute of American Art, the Salmagundi Club, the Boca Raton Museum of Art and other venues (2008-2009), a solo exhibition in the Grand Gallery of the National Arts Club in New York (2000), and a 25-year retrospective exhibition that was shown at the James A. Michener Museum, the Butler Institute of American Art, and other institutions.
Erbe has won numerous awards, including the Gold Medal of Honor at the 2007 Allied Artists of America 94th Annual Exhibition, First Prize at the Butler Institute of American Art's 66th National Midyear Exhibition, and many others. His paintings are held by many museums and private collections.
---
Nutley Historical Society Annual Christmas Party is being held at 7 p.m. at the Nutley Museum, 65 Church Street, on Thursday, December 8, 2016.
Light refreshments will be served as we listen to Door Jam.
We hope you will join us for this festive event. On behalf of all the board members of the Nutley Historical Society, we would like to thank you for your continued support and would like to wish everyone a happy and healthy holiday season.
---
'New Jersey Folk Revival Music
- History and Tradition'
Book Launch Reception at the Nutley Museum
Dec. 9, 2016
"New Jersey Folk Revival Music: History & Tradition," the new book by New Jersey author and historian Michael Gabriele and published by The History Press/Arcadia Publishing, will be unveiled at a gala reception on Friday, Dec. 9, 7 p.m., at the Nutley Museum, 65 Church St., Nutley.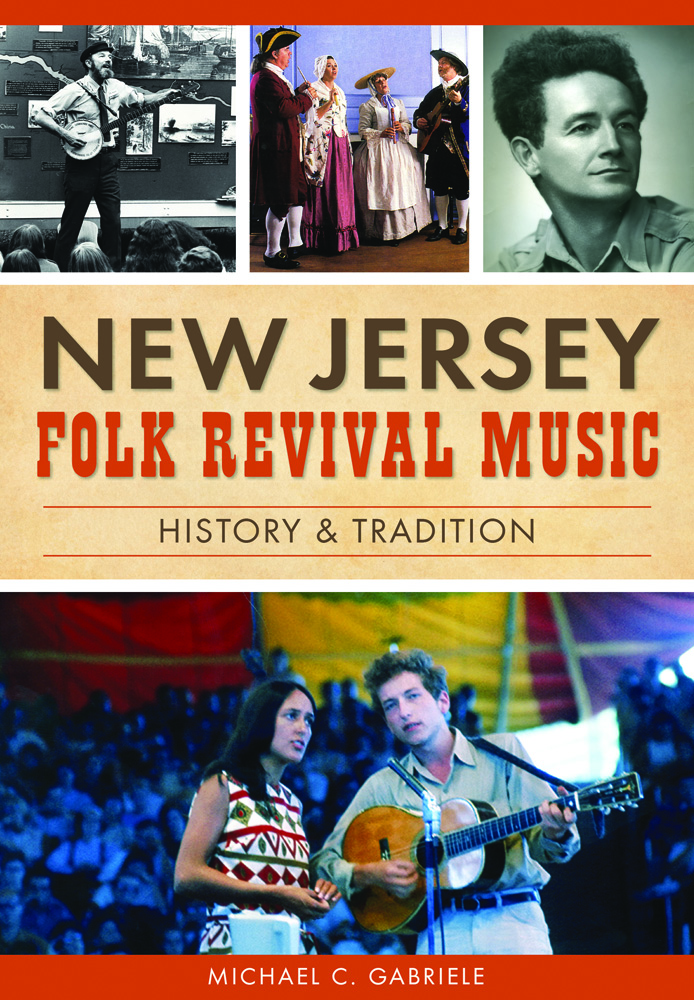 The event, sponsored by the Nutley Historical Society, is free and open to the public. Those attending will be invited to consider a $5 free-will donation per person to support museum operations. Doors will open at 6:30 p.m. and free parking is available on neighborhood streets. Complementary refreshments, coffee, desserts and light snacks will be served. Books will be available for sale by the author.
This is Gabriele's third book published by The History Press. A member of the Nutley Historical Society's executive board, Gabriele is a 1971 graduate of Nutley High School, and a 1975 graduate of Montclair State University.
The reception will feature Ron Olesko, keynote speaker; and Roger Deitz, special guest artist. Both men have been major participants in the evolution of New Jersey folk revival music and they will share their insights.
Ron Olesko is the president of the Hurdy Gurdy Folk Music Club in Fair Lawn and a radio DJ with WFDU FM at Fairleigh Dickinson University. Roger Deitz is an accomplished musician on the Garden State folk revival music circuit. He received the 2012 "lifetime achievement award" from the New Jersey Folk Festival. For more than 40 years, in addition to his musical performances, Deitz has penned numerous columns, feature stories, essays and reviews for publications such as Frets, Acoustic Guitar, Fast Folk, Billboard, and Sing Out!.
The book underlines the notion that folk revival music is a "living history," building upon time-honored traditions. Gabriele's new book provides a narrative on the evolution, traditions and history of folk revival music in New Jersey, from the days of bawdy tavern revelers and fiddle players in the 1700s; to the magical acoustic sounds heard throughout the Pine Barrens; to the advent of the "Guitar Mania" phenomenon in the mid-1800s; to monumental recordings made by Woody Guthrie, Paul Robeson, Jimmie Rodgers and Cecil Sharp at the Victor studios in Camden during the early 1900s; to inspirational concert performances by legendary artists Joan Baez, Pete Seeger and Bob Dylan; to the growth of music festivals and organizations throughout the state; to the rise of bluegrass and new grass music; to the achievements of current world-class New Jersey musicians.
---
NHS Board Member, Annie Oakley Expert Nancy Gruelich, 80
Nancy Greulich, 80, of Nutley, N.J., passed away on Tuesday, Nov. 1, 2016. Visitation will be on Saturday, Nov. 5, from 1 p.m. - 5 p.m. The cremation will be held privately.

Born in East Orange, Greulich lived in Nutley for more than 50 years where she was always seen and heard at township events.

As a long-time Nutley Historical Society board member Gruelich led tours of the Nutley Museum for scouts, schoolchildren and visiting families.

Gruelich studied the life of Annie Oakley and the sharpshooter's era here in Nutley and became expert on the life of our famous celebrity.

Nancy was a founding member of the Nutley Thriving Survivors, a member of the Women's Initiative of Nutley, past-president of the Nutley and Essex Republican Clubs, an elected Republican Official, a member of the John H. Walker Memorial Fund, the John V. Kelly Foundation, and friends of the Nutley Library.

Nancy was the Jaycee's 2009 recipient of the Award for Civic Affairs. She belonged to several dining groups, dog enthusiast groups and was very proud of her work with her therapy dog Casey who for 12 years visited hospitals, Kessler Rehabilitation facilities, handicapped classrooms and people's homes bringing joy and love as only a dog can bring.

Nancy served the Nutley Board of Education for 29 years as a Teacher's Aide and Purchasing Agent. Her intensity and passion will be missed in our family and our Township.

She was the loving mother of Kim, Jeff (Robyn), Stephen (Robin), and Alex (Deb) and beloved dog Stella. Nancy was a loving Mema to her six grandchildren, DJ, Kyle, Corey, Allison, Melissa and Kirston. She was an endeared aunt and caring friend to many.

In lieu of flowers, please refer to Biondi Funeral Home.com for a complete list.

Nutley's Annie Oakley expert dies
---
Nutley Historical Society receives
$1,000 grant from Wells Fargo
Nutley, N.J., Oct. 25, 2016 – The Nutley Historical Society has been awarded a $1,000 grant by Wells Fargo Foundation to support the organization's mission to promote understanding of Nutley history among the people of Nutley.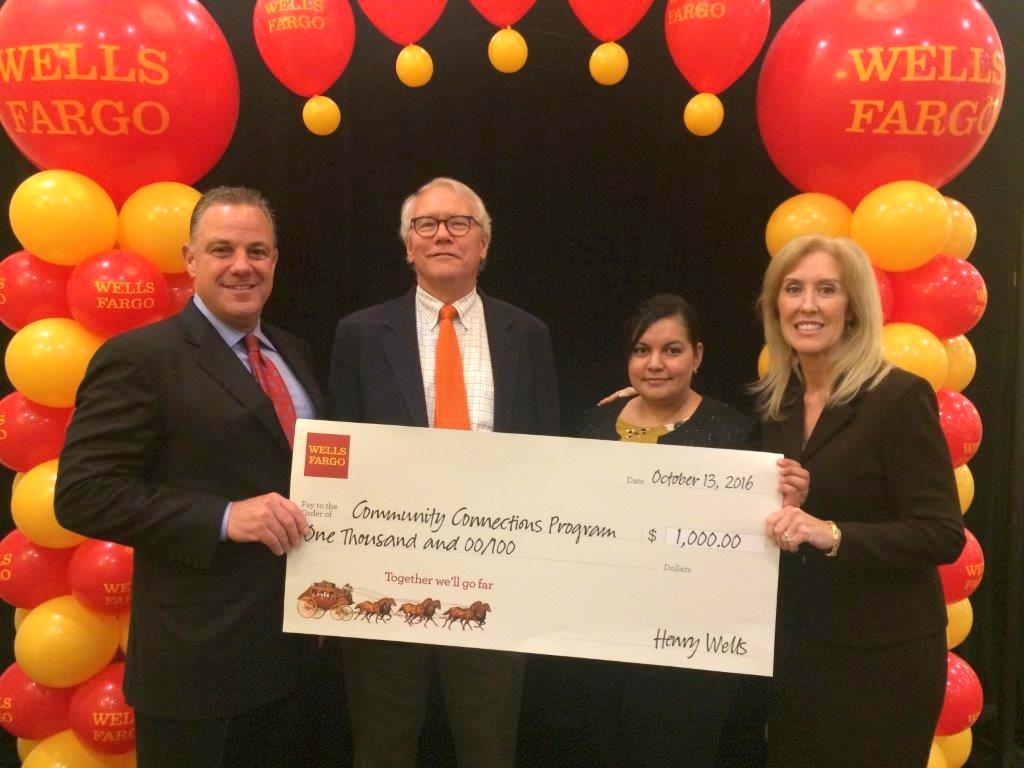 Nutley Museum Art Director Barry Lenson accepts $1,000 grant from Wells Fargo Community Connections Program. From left, Wells Fargo Northern N.J., Region President Fred Bertoldo; Lenson; Central Essex District Manager Mireya Contreras; and Metro North Jersey Area President Ivon Creagh.
The Nutley Historical Society was founded in 1945 when a group of concerned Nutley citizens decided to establish the Nutley Historical Society and Museum in the historic brick Church Street School which is located at 65 Church Street, Nutley.
The beautiful and historic museum, built in 1875, is on the National Register of Historic Places and is the envy of many other civic historical societies in New Jersey.
The museum holds a series of open houses, lectures, tours and other events that are attended by more than 500 Nutleyites every year, as well as by visitors from other towns and states. Other programs include college scholarships given to Nutley students, special exhibitions in the Nutley library and elsewhere, and a vibrant program of other events.
"We truly appreciate Wells Fargo's support," said Domenick Tibaldo, President of the Nutley Historical Society. "We will use this grant to produce more high-quality experiences for the people of our town, and to increase outreach and public awareness of our museum and its mission."
The grant was awarded as part of Wells Fargo's Community Connections program, which provides local branch managers the opportunity to make a $1,000 charitable contribution on behalf of Wells Fargo to a nonprofit of their choice.
Wells Fargo Northern New Jersey branches distributed a total of $148,000 in grants to support nonprofit groups, an increase from last year's $139,000 contributions.
"We host this annual breakfast to celebrate, recognize and say thank you to community heroes such as The Nutley Historical Society for all of their invaluable contributions and dedicated service to empower northern New Jersey neighborhoods over the past year," said Fred Bertoldo, Wells Fargo's Northern New Jersey region president. "Each nonprofit grant recipient was identified by our local branches. They see which nonprofits are out in the community making a difference in the areas where many team members and customers are proud to live and work."
The annual Community Connections program offers Wells Fargo branch managers the opportunity to provide additional grants to local nonprofits of their choice in New Jersey, Connecticut, Delaware, New York and Pennsylvania.
---
Yesterday - Today
- Ann Troy & Vivian Noyes Fikus
Where all great study of Nutley history begins
Hardcover keepsake
copies
are available
at the Nutley Museum
---
Benefits of Nutley Historic

a

l Society Membership

As a member, you and your family are welcome to participate in any or all of our upcoming events. Nutley Historical Society members have the benefit of renting our meeting room at the museum at a reduced and very affordable rate.

When you join or renew your membership, the Nutley Historical Society will be able to continue and expand our work t bring you interesting, informational and fun programs throughout the year. By making our history available and known to those who visit the museum, we can continue to move forward by knowing about and appreciating our past. We can only accomplish this with your help.
---
The Ann A. Troy Gallery-Nutley Museum is open four times a year, and tours are available on request.
For school groups and private museum tours, please contact
Suzanne Hagert 973-667-4270
---
Events held at the Nutley Museum, 65 Church Street, Nutley,
unless otherwise noted.
---
Fall Pumpkin Festival
Come join the fun
for pumpkin painting
and light refreshments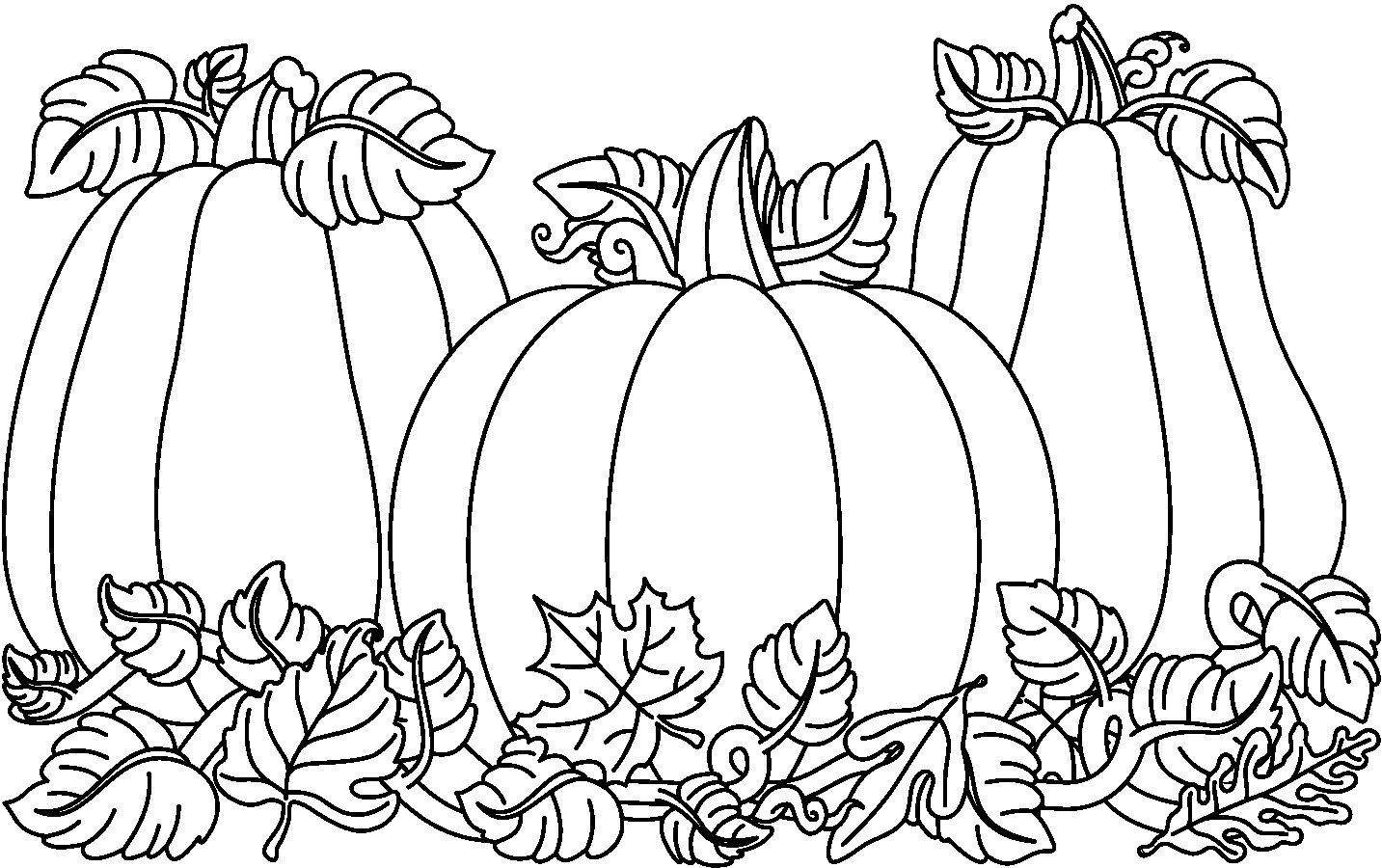 Paint Your Real Pumpkin
Museum tours will also be conducted, event hosted by The Nutley Historical Society at
Nutley Museum, 65 Church Street, Nutley, N.J. on
Oct. 16, 2016.
---
The Nutley Historical Society and Museum held A Walk in the Park on May 29, and June 4, 2016.
John Simko details the true history of the Vreeland Homestead
during Nutley Historical Society
Walk In The Park tour.
---
Nutley Museum Grand Reopening
The recently renovated Nutley Museum will be open to the public after each walking tour as well as from noon to 4 p.m. on Sunday, May 29, Saturday, June 4, and Sunday, June 5, 2016
---
Ice Cream for History
The Nutley Historical Society and Museum will host its ninth annual Ice Cream for History Night on June 2, 2016. Explore Nutley history through fun science-related activities, enjoy complementary ice cream, and visit our recently renovated museum.
---
A Walk in the Park - a YouTube archive
Filmed by a tour-taker, this 22-minute clip provides a small portion of the great Nutley history shared by Museum Director John Simko.
---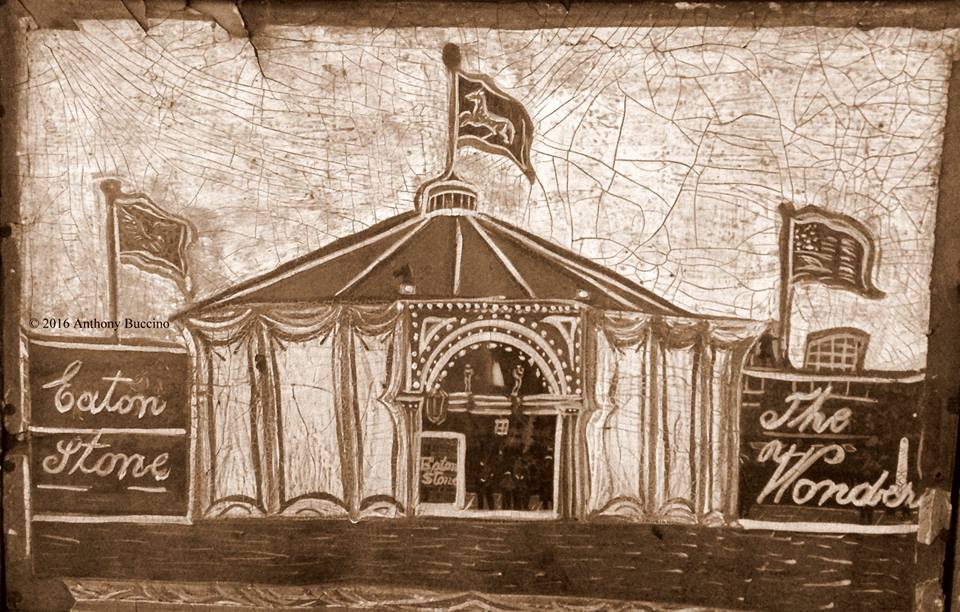 March 26, 2016 - Nutley Public Library
Join Nutley Museum Director John Simko for a look back at the Nutley Amateur Circus, a colorful fundraiser to help those in need more than 100 years ago. Although this event took place in 1894, it has inspired a local mural competition to be unveiled later this year.
Come to the NUTLEY PUBLIC LIBRARY and learn about this circus that still fascinates us today. The half-hour talk for all ages will be immediately followed by a circus inspired art project.
---
The Nutley Historical Society General Membership Meeting and Election of Board Members
Please note that the by-laws of The Nutley Historical Society were amended by unanimous vote on January 19, 2012, in that the clause stating that the president vice president treasurer and secretary could only serve for two consecutive terms be deleted.