Mark Your Calendar
May 28: A Walk in the Park Historic Tour
June 1: Annual Ice Cream for History
September 20: General Membership Meeting
October 15: Annual Fall Pumpkin Festival
December 7: Annual Christmas Party
See event details below
---
A Walk in the Park: Historic Nutley Walking Tour at Memorial Park
with John Simko
10 A.M., May 28, 2017
Brush up on your Nutley history this Memorial Day Weekend beginning with "A Walk in the Park," hosted by Nutley Museum Director, John Simko.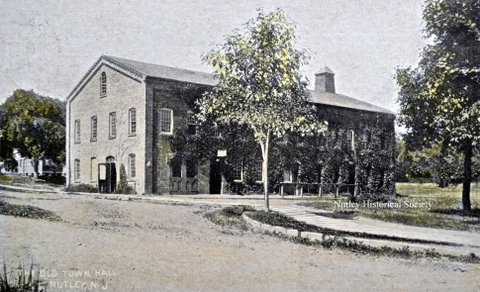 The walking tour will step off at 10 a.m. on Sunday, May 28, 2017, at the Mud Hole (near the intersection of Passaic and Vreeland Avenues) and will travel along the Third River.
Mr. Simko will talk about the river's role in Nutley history as a source for early industry, as an inspiration for world-class artists, as a symbol of civic pride, as an important boundary marker, and as a fitting memorial to our war veterans.
The tour will visit the sites of three former mills as well as the pre-Revolutionary Van Giesen homestead. Find out why the Third River splits in two, learn about the beginnings of our hundred-year-old Carnegie Library and even older Town Hall, and walk through one of Nutley's oldest cemeteries.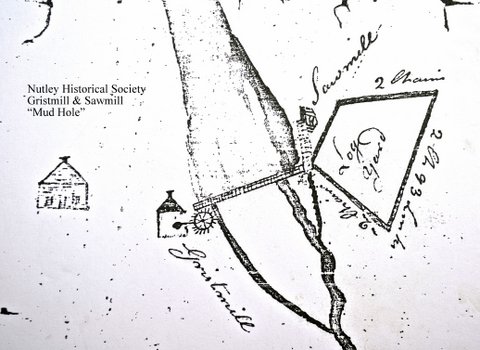 The tour concludes at noon inside an 1875 brick schoolhouse (now the Nutley Historical Society and Museum) where light refreshments will be served. The museum will be open for browsing, and tour-related objects from our archives will be on display in our main hall.
"A Walk in the Park" is free, but is limited to 30 people and requires pre-registration. To register for the tour send an email to
All events are free of cha
rge and are open to members, family and friends.
---
50 Years of Nutley Wrestling History
May 17, 2017
Guest speakers included Anthony Bowens AKA "Vigilante" who wrestled his first match on April 13, 2013, in his hometown of Nutley and who later went on to win his first title on April 12, 2014, Sal Scarpa, brother of Joe AKA Chief Jay Strongbow, who brought lots of memorabilia.
Nutley wrestling coach Mike DiPiano, and former Nutley coach Carmen LoRe who resides in Nutley and was a member of the original "club" wrestling team at Nutley High School (1961) the first varsity wrestling team (1962) and head coach for the NHS wrestling team (1994 to 2007) and won more than 100 matches.
See Nutley Wrestling History event photos and More
---
Annual Ice Cream for History
6:30 P.M., June 1, 2017
The Nutley Historical Society is hosting its Annual Ice Cream for History night and museum tour at the Nutley Museum, 65 Church Street, Nutley, N.J.
The Society is especially happy to welcome children to the museum along with their parents who will enjoy Nutley's rich history.
Ice cream is 'free' and all welcome to tour the Nutley Museum on the 2nd floor.
We are looking forward to seeing you there!
---
Annual Fall Pumpkin Festival
2 P.M. October 15, 2017
---
Annual Christmas Party
7 P.M., December 7, 2017
---
Nutley Historical Society General Membership Meeting & Election of Board Members
Nutley Museum, 65 Church Street, Nutley
Held May 17, 2017
---
Help us to tell the full story of 'Camp Nutley.'
US Army 'Camp Nutley' aka Battery A of the 98th AAA Air Defense Battalion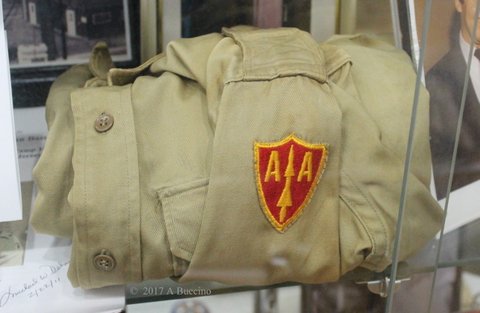 Did you, or someone you know, serve in Nutley at Battery A of the 98th AAA Air Defense Battalion form 1952 to 1957?
The Nutley History Society is seeking former members and artifacts of this chunk of Nutley history in protecting the free world.
Share your story and preserve our history by sharing your tales of serving at the camp. Please call us at 973-667-1528 and leave your contact information.
The camp was located on the south side of Park Avenue near Route 21 where the ball fields, tennis courts and hockey rink stand today. Its four 90 MM radar controlled guns were assigned to defend the George Washington Bridge, just 11 miles away, from Soviet bomber attack.
AA shirt donated to the Nutley Museum by
current Nutley resident and former Camp Clerk Thomas Mahon.
---
Our trustees and docents continue to itemize, catalog and preserve as much Nutley history as we can.
If you have an item tied to our town's history, please consider donating it to the Nutley Museum.
Give us a call 973-667-1528, or email us to get together.
---
Now is a great time to join or renew your
Nutley Historical Society membership
Thanks to all our members who supported the Nutley Historical Society's Events and Activities. Here is a recap of what your membership dues helped to support in 2016.
• Ongoing open houses and Museum events. Our Museum continued to hold open houses for yearly events that included the Summer Ice Cream Social, the Fall Pumpkin Painting Festival, and the Christmas Holiday Open House with live music and refreshments.
• Tours of the Nutley parks. Museum Director John Simko continued to conduct "Walk in the Park" tours that explained our parks' rich history – the creation of the Memorial Park to honor veterans of World War II, the locations of textile mills and other fascinating facts about our town.
• Special exhibitions outside the Museum. In the last year, the Historical Society has continued to present well-received lectures and special exhibitions at the Nutley Public Library.
• Art competition. Three members of our Board joined Nutley educators in a competition in which 18 Nutley students submitted designs for a new mural that will be installed in the Walker Middle School this year.
• Museum scholarships. Three scholarships were awarded to graduating Nutley High School students who applied and submitted essays about Nutley's history.
Join/renew membership in the Nutley Historical Society
---
If you are interested in volunteering to be on one of our committees or for any additional information or to schedule a museum tour please call 973-667-1528.
---
April 19, 2017
Nutley Historical Society will present an encore discussion and new video detailing the History of US Army "Camp Nutley," officially known as Battery A of the 98th AAA Air Defense Battalion.
From 1952 to 1957, the camp was located on the south side of Park Avenue.
Read all about Camp Nutley and see the video: Camp Nutley, Battery A, 98th AAA Gun Battalion: I Was There
---
Nutley High School Performing Arts Presents Annie Get Your Gun
Nutley High School, Nutley, NJ—Nutley High School Performing Arts presented three performances of Annie Get Your Gun at Nutley High School in March 2017.
Read the full story of the Nutley musical here
---
Events held at the Nutley Museum, 65 Church Street, Nutley,
unless otherwise noted.