Nutley History, from General George Washington's Retreat Route
to Annie Oakley to the Morris Canal on Our Western Border
to Quarry Town and Speed Racing Velodrome
to our Golfer's Heaven and Old Military Hall
to Presidential Visits and Professional Wresting
to Cold Ice Cream to our Cold War Anti-Aircraft Radar Camp
to the Arrival of Route 21 ...
---
Dutch Introduced Skating as Nutley Winter Sport
Few alive today would recognize most of the Nutley backwoods and ponds described in this memoir sixty-odd years ago. Bearskin Brook, Rusby's Pond, or Hillside Park ring a bell in your olde Nutley memories? Compare your memories.
---
When Bicycling and Auto Races Were Popular
When Sunday afternoon trotting races on a mile straightaway in elm shaded Washington Avenue were the town's favorite diversion, bicycles captured Nutley's favor. The wheel led to bicycles which led to the Nutley Velodrome which was the ancestor of the Tour of Nutley bike racing classic. Read all about it.
---
Artists of Nutley
Letter to Mark Twain:
"There isn't much that is prettier than this end of New Jersey. It is all upland, tumbling into shallow valleys and bright sunny reaches along the Passaic River, and hillsides white as snow with the daisies, and everywhere trees, in little clumps or in long lines by the roadside.... You come. I'll drive you around on Sunday and show you some views that will do your heart good. I'll row you up the Passaic. I'll give you a chance to play tennis.... Don't be afraid. You can't play worse tennis than I do.... The mosquitoes are very small this summer—few over an inch long...
Continue reading
---
25 Nutley Sights You Can No Longer See
Many of these Nutley, New Jersey locations have been gone for generations. A few would appear in some more recent memories by those of us walking these tree-lined streets.
The Nutley Historical Society is dedicated to serve the educational, cultural, and historical needs of our community. That would include keeping a door open to our past structures and other sights that may no longer exist but played a part in making Nutley what it is today.
Here, we offer a brief glimpse of twenty-five Nutley sights you can no longer see. Check it out
---
NHS Meeting Room Available for Rental
We are happy to announce that our meeting room is now available for rentals. To inquire about availability and rental fee, please call 973-667-1528 and leave a message for our caretaker, Kerry Flynn.
Rent the historic first floor of the Nutley Museum for your event
Call Kerry Flynn, caretaker to rent the hall
: Call 973-667-1528
PLEASE CALL AND LEAVE A MESSAGE BEFORE YOU EMAIL FOR RENTAL AVAILABILITY INFO - Thanks
Seating for up to 70 people. Handicap accessible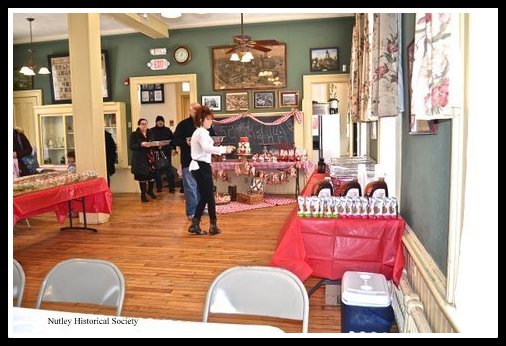 More information on the Nutley Museum, and meeting room rental with photos.
Save time, download forms:
---
120 Years Ago
Franklin Officially Becomes Nutley, March 5,1902
---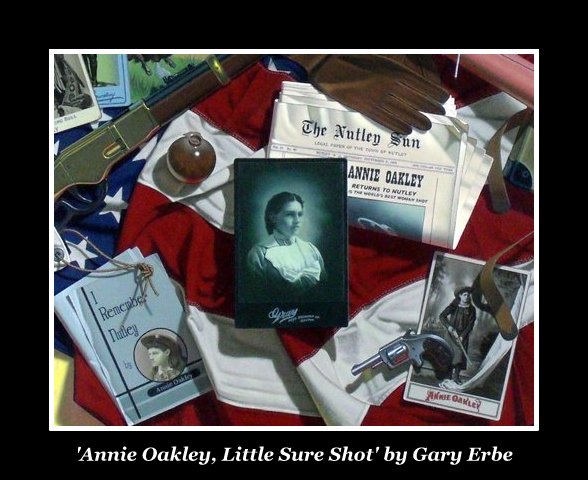 "Annie Oakley: Little Sure Shot" by Gary Erbe
---
The Lady, or The Tiger
Nutley Author
---
Nutley Museum Online Tour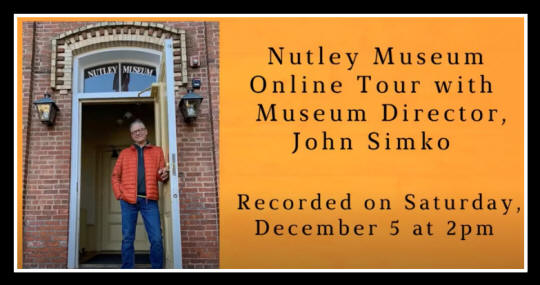 Nutley Museum Director John Simko's online tour of the Nutley Museum, recorded December 5, 2020. Simko spotlighted the Annie Oakley collection and other select items featured throughout the Nutley Museum. Projects by the Nutley Historical Society were also highlighted.
Nutley Museum Online Tour video
---
Nutley Historical Society

Annual Fall Pumpkin Festival

Family and Friends are invited to join us

in the Nutley Historical Society meeting room

at our annual Fall Pumpkin Festival from 1 pm to 3 pm on October 16, 2022.

Children of all ages are welcome to come and paint a pumpkin and everyone gets to enjoy some fall treats.

In addition, our museum collection will be open for tours. Admission is free however donations are graciously accepted.

Thank you and hope to see you then.
---
Annual Ice Cream for History

June 2, 2022

The board of the Nutley Historical Society is pleased to bring back our

Annual Ice Cream for History night and museum tour at the Nutley Museum, 65 Church Street, Nutley, N.J.

The Society is especially happy to welcome children to the museum along with their parents who will enjoy Nutley's rich history. Ice cream is 'free' and all welcome to tour the Nutley Museum on the 2nd floor. We are looking forward to seeing you there!

Admission is free.

Ice cream social brings visitors back to Nutley Museum By Amanda Valentovic
---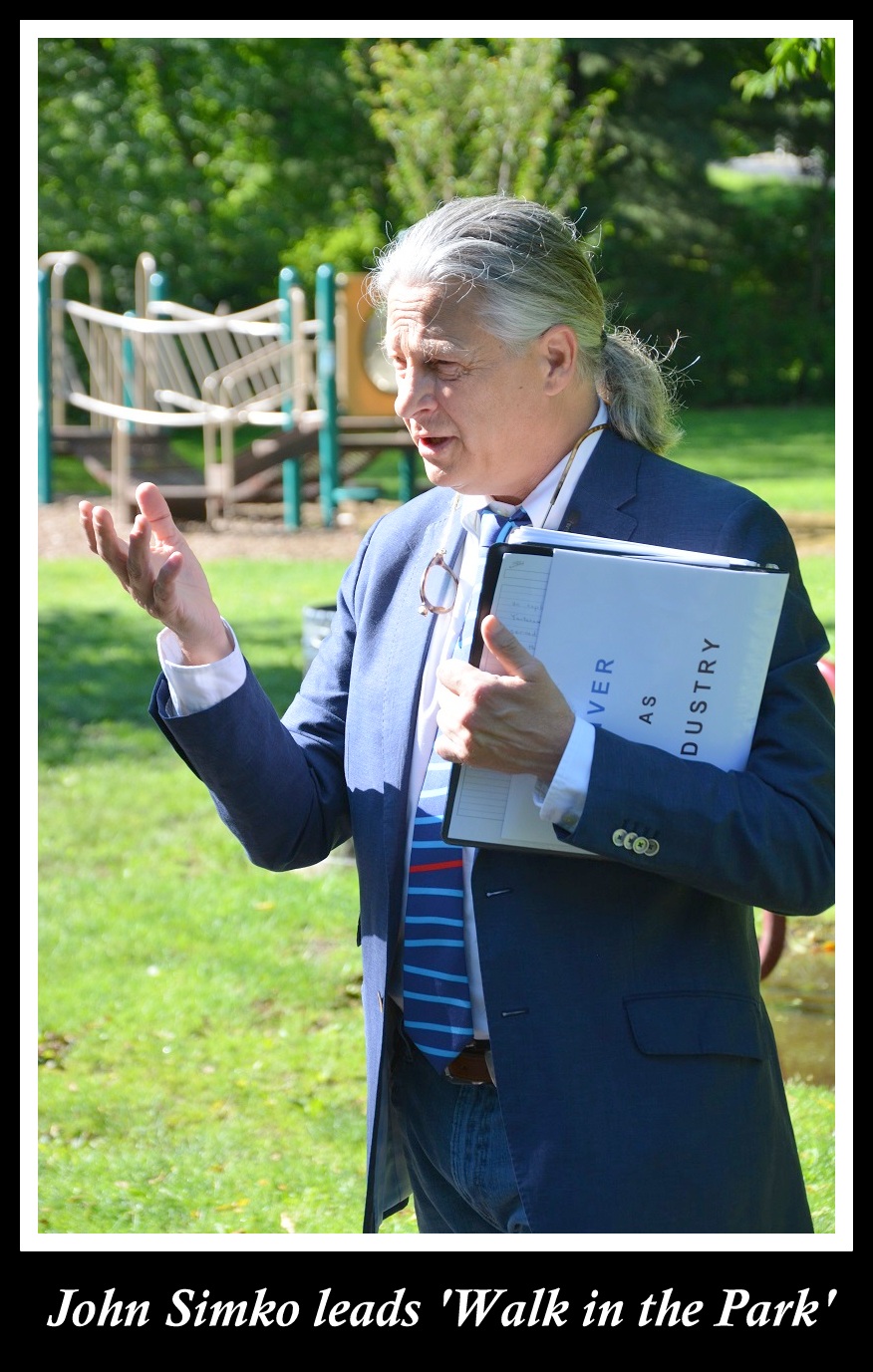 Nutley Walk In The Park 2022

"A Walk in the Park," led by Nutley Museum director John Simko of the Nutley Historical Society, was held Sunday, May 29, 2022. The tour traveled along the Third River in Nutley Memorial Parkway—from Vreeland Avenue to Chestnut Street, then on to Nutley Town Hall and Franklin Reformed Church, and ended at the Nutley Museum.

Simko discussed the Yantacaw River's (the Third River) role in Nutley history as a source for early industry, as inspiration for world-class artists, as a symbol of civic pride, as an important boundary marker, and as a fitting memorial to our war veterans.

Stops on the tour include the sites of three former mills, see the pre-Revolutionary War Van Giesen homestead, the beginnings of Nutley's 100-year-old Carnegie Library and even older Town Hall, and walk through one of Nutley's oldest cemeteries.

The Nutley Historical Society sponsored the event.

Non-professional videos of previous tours are available on YouTube.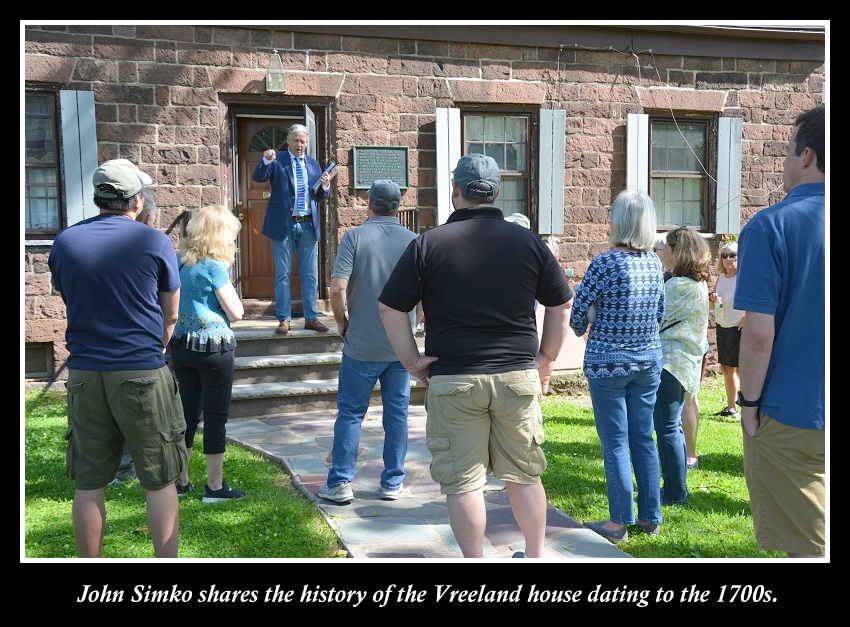 Another Park Walk Celebrates the Yantacaw
Due to an overwhelming response from our Memorial Day "Walk in the Park", Nutley Museum director John Simko led "Another Walk in the Park" - a free tour that celebrates the Yantacaw River and its role in Nutley history while strolling through Memorial Park on July 16.
---
Sgt. Walter Bray, Korean War POW
DVD Presentation, Friday, May 27
A short documentary highlighting Sgt. Walter Bray's experience as a prisoner of war during the Korean war will be shown at in the Nutley Museum, 65 Church Street, at 2 p.m. on Friday, May 27, 2022.
Walter Bray grew up in the 1930's. He was an orphan and lived in state homes until he turned 17 years old and enlisted in the U.S. Army.
While awaiting his separation papers at Schofield Barracks in Hawaii, he and his company were told to fall out with their barracks bag and were put on a ship to Korea.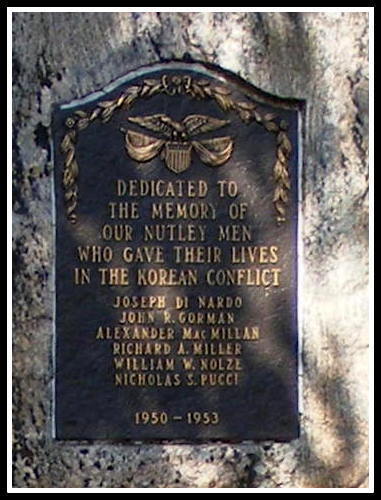 Sgt. Bray was part of a 250 men first company mortar team when they were attacked and captured. Only 27 men of the 250 survived. He had been shot in the leg and thanks to a Father Kopec who begged the doctors not to amputate, Bray recovered from the injury.
During his time as a POW, soldiers continued to die, and Bray would steal one of their dog tags and bury it. When the war was over, Bray dug out all the dog tags he had buried so that the families of the fallen knew what happened to their sons. Walter Bray was an originator of a local Old Guard chapter and initiated over 200 men before his death.
If you would be interested in seeing this documentary, please feel free to join us and while you are there, take a tour of our museum collection as well.
Walter E. Bray Jr. (May 6,1930 to April 29, 1998), was raised in Hackensack, and according to the 1940 Census, his mother was the head of the household. He was the youngest child and had three sisters and one brother. He lived in Lodi with his wife Lillian and two children. He is interred at George Washington Memorial Park in Paramus.
On behalf of the Nutley Historical Society board members, to all those who have served or continue to serve our country, THANK YOU.
Pfc. Nicholas S. Pucci was killed in action in Pusan, Korea, on Sept. 6, 1950. Pfc. Joseph DiNardo was declared missing in action since Dec. 2, 1950. Pfc. Reed A. Smith died while in service on Feb. 15, 1951. Pfc. John F. Van Der Linde was killed in action in Korea on March 15, 1951. Corp. Alex. MacMillan was killed in action in Korea on March 22, 1951. Pfc. William Nolze was "presumed dead" after being MIA since April 1951. Pfc. John R. Gorman was killed in action in Korea on May 18, 1951. Richard Arthur Miller was killed in service in July 1951. S/Sgt. John McConnell died while in service on Oct. 9, 1951. 1st Lt. Bernard Hafkin was killed in action in Korea, on Oct. 19, 1951. Robert G. Bliss died while in service on Feb. 4, 1953.
---
Nutley Museum Big Plans, New Exhibits
By Barry Lenson
The Nutley Museum has been quiet over the summer. We didn't have our annual Ice Cream Social. John Simko, our Museum Director, didn't lead his annual "Walk in the Park" history tour of our parks on Memorial Day. We cancelled an evening of sports films that was part of the Gary and Zeny Erbe Film Festival. And we have just learned that we will not be permitted to rent out our first-floor meeting/party space until autumn at the earliest.
Like you, we have been through a tough time. But we've been making huge plans for wonderful new things for the people of Nutley to enjoy when we open our doors.
■ WE'RE PLANNING A BLOCKBUSTER EXHIBITION TO HONOR NUTLEY'S FIRST RESPONDERS AND VETERANS
The Nutley Museum owns a large collection of photographs and memorabilia that are related to Nutley's long history of public servants and veterans from years past – firefighters, policemen and women, Red Cross volunteers, and more. And we're planning to put our collection on display at a special event and exhibition.
Stay tuned after we open our doors again.
■ WE'RE OPENING A PERMANENT ANN TROY EXHIBITION
Ann Troy (1890-1983) is best known to Nutley people as the author of the "bible" on Nutley History, a book called Nutley: Yesterday and Today. She was also principal of the Park Street School from 1919 until 1934 and later, principal of Washington School until 1952. And back in 1945, she was one of the founders of the Historical Society and Museum.
Museum Director John Simko (and his family too) have been working hard to create an area in the Museum where a collection of Ann Troy's possessions will be on permanent display. And there will be a big surprise. John Tiene, a longtime friend of the Museum, has given us the desk where Ann Troy wrote her book. It will be the centerpiece of our new permanent display.
■ WE'RE POLISHING UP OUR DISPLAY OF WORKS BY NUTLEY ARTISTS
Thanks to a grant from Essex County, we have been able to restore a painting we own by Frank Fowler, who founded the Enclosure Artists' Colony nearly 150 years ago. We plan to display it when we reopen, alongside works by Nutley's other great artists. We're also hoping to invite today's Nutley artists to lend their work to the show.
■ WE'RE UNVEILING THE VINCENT METHODIST CHURCH GATES
Silas Mountsier, the Nutley hero who is best known to Nutleyites as the cultivator and developer of the gorgeous Mountsier Garden, has underwritten the cost of restoring and reinstalling the impressive wrought iron gates that once stood at the entrance of Vincent Methodist Church. They are now being professionally restored. We plan to reinstall them as a grand entrance to the Nutley Museum, or nearby on museum property.
Stay tuned. It will be a grand event and a major addition to our beautiful town.
■ AND THAT'S NOT EVERYTHING …
We're unveiling lots of artifacts from our history … class trips will come again and fill the museum with fun and laughter … we will host our annual Pumpkin Festival, Holiday Party and other events … we'll hold lectures and special exhibitions … and we can hardly wait to see you at the Nutley Museum!
■ JOHN DEMMER HAS GIVEN US HIS NUTLEY SUN ARCHIVES
John, our Town Historian, has donated an extensive collection of old issues of The Nutley Sun. While the Nutley Public Library has its own digitized collection too, we are thrilled to add this resource to our research tools.
■ Won't You Join the Nutley Historical Society and Museum? We invite you to become a member of the Nutley Historical Society. It's easy and fast to join.
---
Lambert Square dedication May 1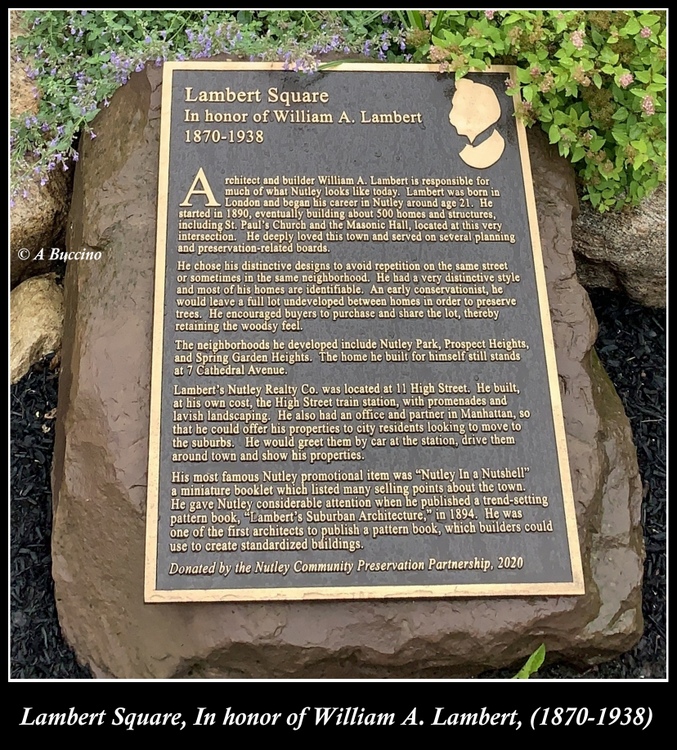 The Nutley Community Preservation Partnership, The Nutley Historical Society, and The Nutley Historic Preservation Committee cordially invite you to celebrate William A. Lambert at noon on Sunday, May 1, 2022.
Activities start at the Nutley Historical Society-65 Church Street - where the Nutley Museum be open until 1 p.m. Items related to William Lambert will be on display.
Nutley Township Historian John Demmer will give a brief talk about William A. Lambert and his impact on the development of Nutley.
The action the shifts to Lambert Square-at the intersection of Franklin Avenue & High Street-for the actual Lambert Square dedication ceremony and the unveiling of two Lambert plaques.
Suzanne Beadle - Past President
Nutley Community Preservation Partnership
---
Author Ron Negra speaks on Waves of Hope
Ron Negra, Nutley native and author, discussed his book "Waves of Hope" at the Nutley Museum on March 16.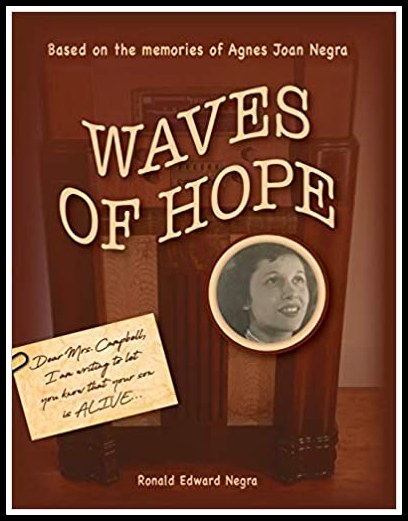 "Waves of Hope" tells the remarkable story of the author's mother, an inspiring young woman named Agnes Joan (Verdi) Negra and heroic acts of kindness she performed during World War II.
Imagine a time back in 1944 when she sat at her shortwave radio in Nutley night after night, listening to broadcasts in which our German enemies read the names of American soldiers they had captured and were holding as prisoners of war in Europe. This was personal for her. As a young bride and mother – her husband August had been wounded at the Battle of the Bulge and was missing in action.
Yet Ms. Negra did more than listen for news of her husband. She began to write down the names of the American soldiers whose names she heard on the air. She then personally wrote to the families of each of those soldiers. Often, her letters were the first indications that families received that their soldiers were alive.
That is the remarkable story of "Waves of Hope." Yet the book is much more than a written history. It contains copies of the letters that Ms. Negra received from the families she had written to. The result is an astonishing and deeply moving story of kindness and hope.
And if you are wondering, Agnes and her GI husband were reunited after the war. This story of love, family, kindness and more will inspire you.
Ronald Edward Negra, a Nutley, NJ native, was born on November 9, 1947. He enjoys writing about genealogy and wrote his first book in 2004 titled, "The History of the Verdi Family…Celebrating 100 Years in America." Ron also completed a book on the Negra Family History and on the life of his father, August E. Negra.
Nutley woman sent 'Waves of Hope' across the country during WWII Essex News Daily
---
General Membership Meeting Held March 16, 7 PM
Approved Slate of Officers Two-Year Term, 2022-2024
President: Domenick Tibaldo
Vice President: Suzanne Hagert
Treasurer: Maryann Lauber
Van Riper Historian: Patty Williams
Art Historian: Barry Lenson
Director, Buildings & Grounds: Mike Petrucelli
Director, Membership: Eleanor Slomkowski
---
The Rising of the American Spirit
Nutley artist Billy Lopa unveils new painting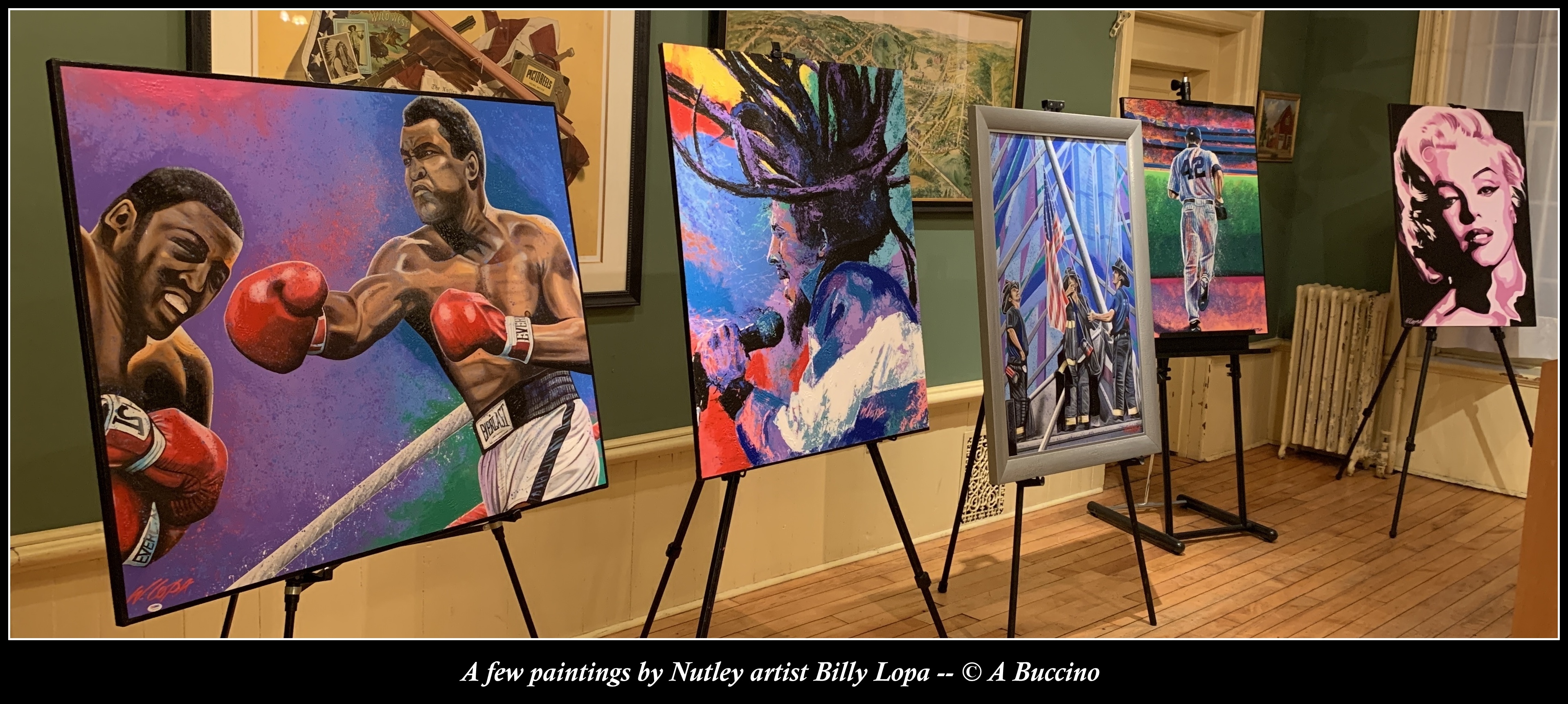 ---
Historical Society Congratulates Winners
Of Annual Nutley History Essay Contest
By Michael C. Gabriele
The Nutley Historical Society named Nutley High School seniors Ibraham Elnaggar, Emily Ostrowski, Meredith Carson as the winners of the organization's annual history essay contest. The students received their awards during a ceremony at the high school on June 14, 2021.
---
For Room Rental: Call 973-667-1528
Founded 1945
65 Church Street, Nutley N.J. 07110
973-667-1528
Copyright & Reprint Information
Contact Room Rental, via phone, not email, Call 973-667-1528
Official Web Site
Nutley Historical Society
Follow/Like Us on Facebook
Check-in When You Visit
---
Got Historic Nutley Stuff?
Our trustees and docents continue to itemize, catalog and preserve as much Nutley history as we can. If you have an item tied to our town's history, please consider donating it to the Nutley Museum. Give us a call 973-667-1528, or email us for more information.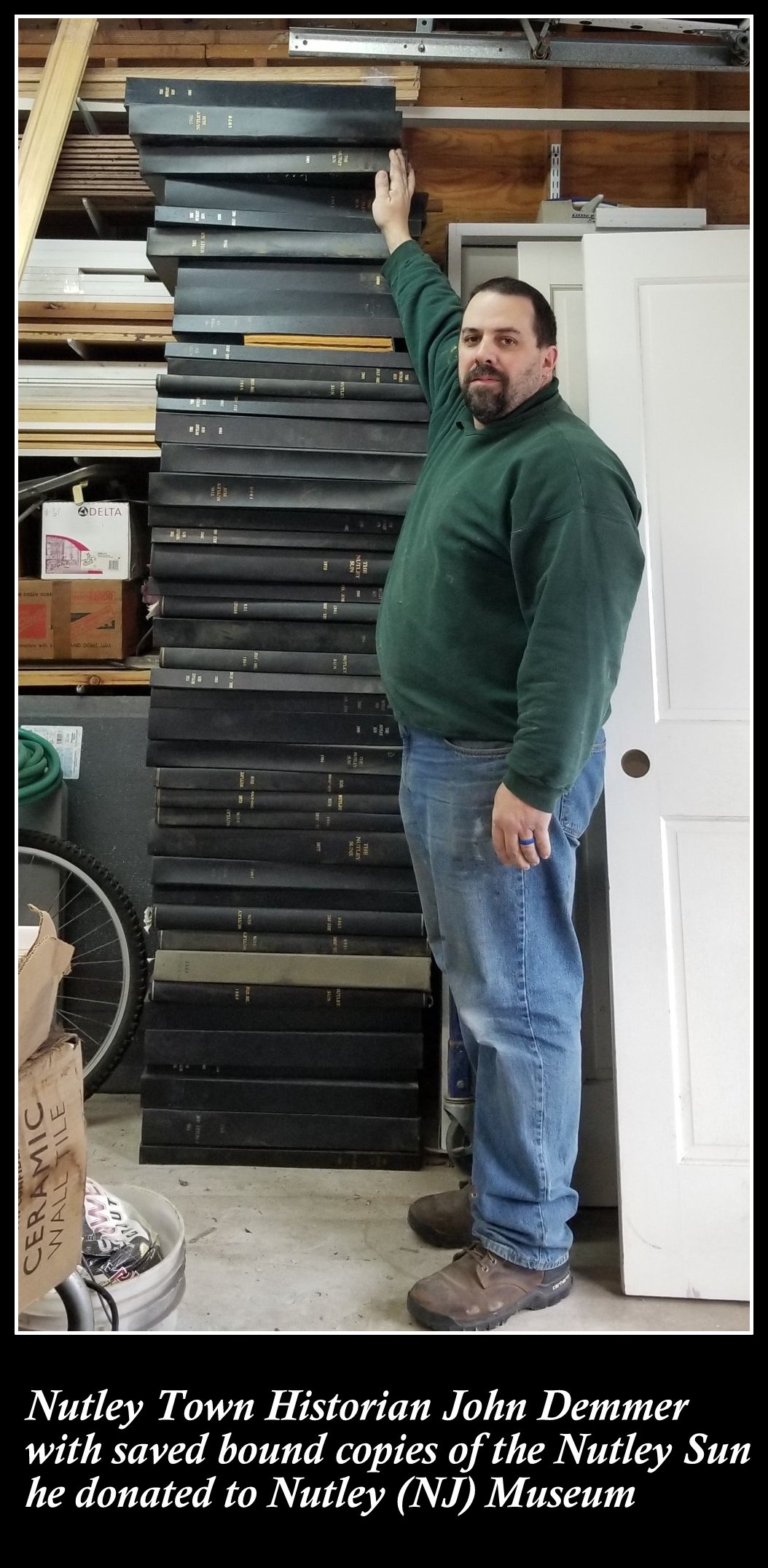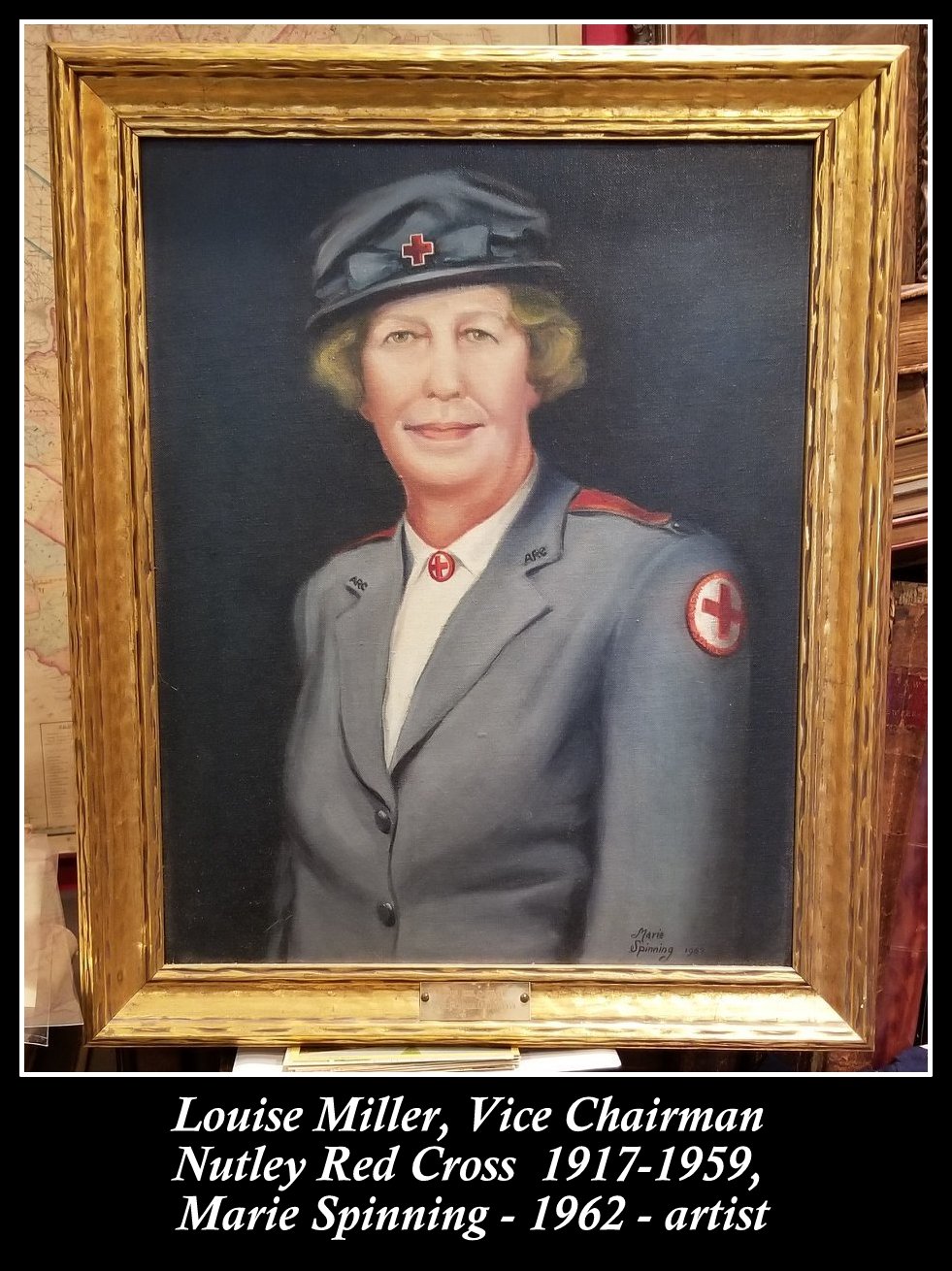 ---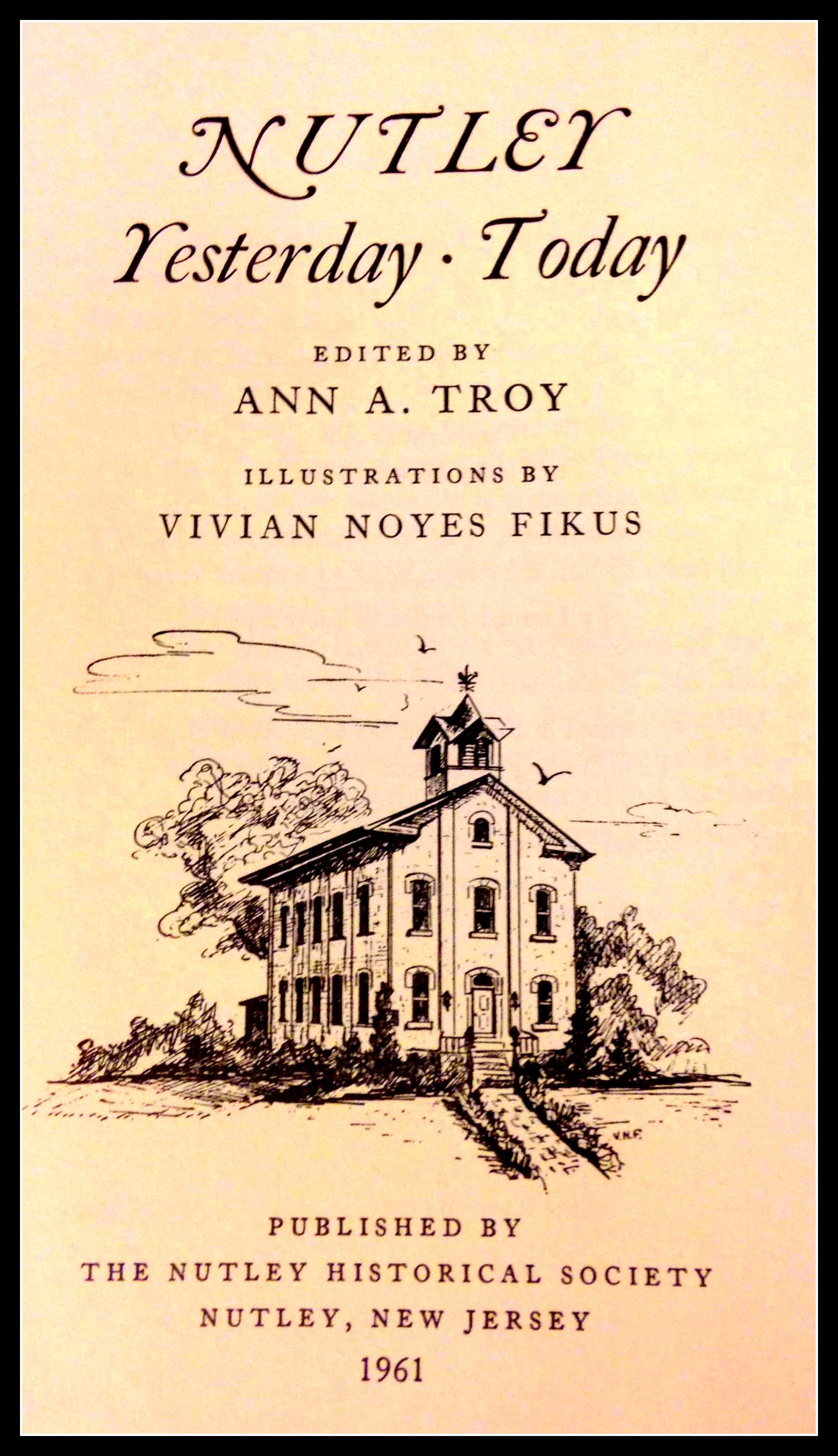 NUTLEY Yesterday - Today - Ann Troy & Vivian Noyes Fikus
Where all great study of Nutley history begins
The importance of history in general cannot be doubted. It sets before us striking instances of virtue, enterprise, courage, generosity, patriotism and, by a natural principle of emulation, encourages us to copy such noble examples. History displays the dealings of God with mankind. It often leads us to view with awe His darker judgments and again it awakens the liveliest emotions of gratitude for His kind and benignant dispensations.
In 1945 the founders of the Nutley Historical Society wrote into its constitution the statement that:
"It shall be the purpose . . . of this association to do all in its power to collect all the available historical material connected with . . . the history of Nutley and carefully to preserve the same. . . . This shall mean ultimately the writing of the history of the town. . . Down through the years, work on this project continued until the present volume has been prepared.
So now, since History never stops, we in the Nutley Historical Society in 1961—like those who wrote the first History of Nutley in 1907— pass on the torch to those coming generations who at some future time will feel the need to once again issue a . . .
"HISTORY OF NUTLEY"
Robert F. Heald
First President 1954 to 1961
March 5, 1961 The Nutley Historical Society
From the Foreword
Hardcover keepsake
copies
are available
at the Nutley Museum
---
Nutley Historic

a

l Society

Membership Benefits

As a member, you and your family are welcome to participate in any or all of our upcoming events. When you join or renew your membership, the Nutley Historical Society will be able to continue and expand our work to bring you interesting, informational and fun programs throughout the year. By making our history available and known to those who visit the museum, we continue to move forward by knowing about and appreciating our past. We can only accomplish this with your help.

Join Now

Now is a great time to join or renew your Nutley Historical Society membership.

Thanks to all our members who supported the Nutley Historical Society's events and activities.

If you are interested in volunteering to be on one of our committees or for any additional information, please call 973-667-1528.
---
Nutley Historical Society Celebrates 75th Anniversary
Thanks to all who joined us to raise a toast in celebration of the seventy-fifth anniversary of the founding of the Nutley Historical Society on March 5, 2020. Events included cake cutting and a birthday toast, an update on recent museum acquisitions and activities, and a special tour of museum highlights by the museum director.
---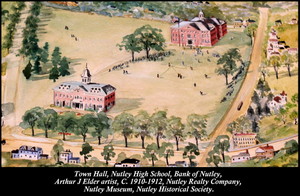 Rent the historic first floor of the Nutley Museum for your event
Call Kerry Flynn, caretaker
t
o Rent the Hall: Call 973-667-1528
PLEASE CALL AND LEAVE A MESSAGE BEFORE YOU EMAIL FOR RENTAL AVAILABILITY INFO - Thanks
Seating for up to 70 people. Handicap accessible
More information on the Nutley Museum, and meeting room rental with photos.
Save time, download forms:
For Room Rental: Call 973-667-1528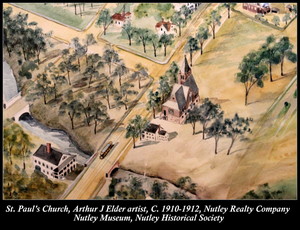 See the 1910 artist's view of Nutley in person in our first floor meeting room!
---
Also of Interest in Nutley, N.J.
Kingsland Manor
Nutley Historic Preservation Committee
---
Web site development & maintenance
provided at no cost to Nutley Historical Society, sponsored by:
Links are subject to change
---
Contact Room Rental, via phone only, not email, Call 973-667-1528