Mark Your Calendar
March 15: Nutley - 50 Years of Wrestling History
---
---
Nutley-50 Years of Wrestling History
7 p.m., Wednesday, March 15, 2017
Join us along with guest speakers Anthony Bowens AKA "Vigilante" who wrestled his first match on April 13, 2013 in his hometown of Nutley and who later went on to win his first title on April 12, 2014, Sal Scarpa, brother of Joe AKA Chief Jay Strongbow who will bring lots of memorabilia to display.
Nutley wrestling coach Mike DiPiano, and former Nutley coach Carmen LoRe who resides in Nutley and was a member of the original "club" wrestling team at Nutley High School (1961) the first varsity wrestling team (1962) and head coach for the NHS wrestling team (1994 to 2007) and won over 100 matches.
Light refreshments will be available.
This event is free of charge and all are welcome!
Nutley Historical Society, 65 Church Street, Nutley, N.J.
---
Nutley High School Performing Arts
Presents Annie Get Your Gun
March 10 at 7 p.m., March 11 at 7 p.m., March 12 at 2 p.m.
Nutley High School, Nutley, NJ
Nutley, NJ—Nutley High School Performing Arts presents three performances of Annie Get Your Gun at 7 p.m. on Friday, March 10 and Saturday, March 11 as well as 2 p.m. on Sunday, March 12 at Nutley High School, 300 Franklin Avenue, Nutley, NJ.
Annie Get Your Gun is based on the life of Annie Oakley—a sharpshooter who starred in Buffalo Bill's Wild West Show—and her romance with fellow sharpshooter Frank Butler. When Annie's skills prove better than Bill's, business heats up while romance cools, until the final shoot-out ensures a finale that hits the mark.
"The music of Irving Berlin—featuring hits like There's No Business Like Show Business and Anything You Can Do—makes Annie Get Your Gun truly memorable," says Musical Director Nicole Monte. Adds Director Austin Vallies, "We're so excited to work with our multi-talented student cast, crew, and musicians in this fun nod to a dynamic figure in Nutley history."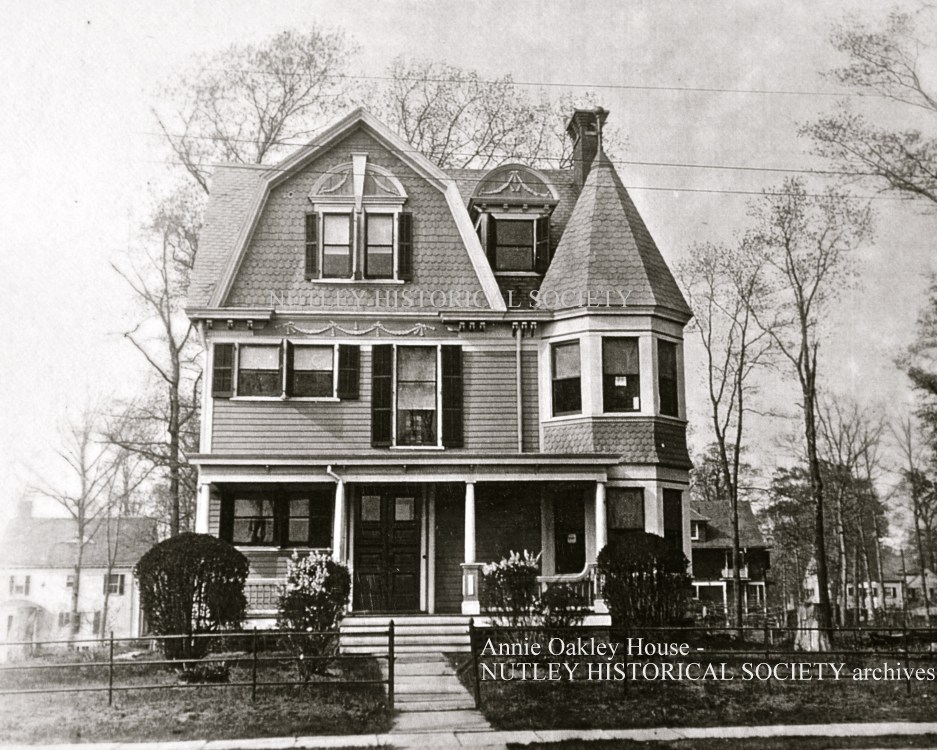 Annie Oakley's Home on Grant Avenue
In 1892, Annie returned home an international superstar following a five-year tour of Europe, where she performed for many heads of state. Mr. and Mrs. Frank Butler had a home built on Grant Avenue and lived in Nutley for 12 years. They were by all accounts terrific neighbors who were very active in Nutley social life. In 1894 Annie took part in the Nutley Amateur Circus, a local fundraiser to start a Red Cross chapter in town.
In 2016, then Nutley High School senior David Dizdari won a student art competition to design a mural based on the Amateur Circus. Later this year, that mural will be installed in the John H. Walker Middle School and join five others painted by Nutley students in the 1930s—more than 80 years ago!
In the meantime, David's mural will be on display in the Nutley High School lobby during performances of Annie Get Your Gun. Nutley Museum Director John Simko calls it "a terrific painting from many great student submissions that captures a special moment in Nutley's rich history," noting that this is a "fantastic opportunity to see it up close."
Visitors to the Nutley Historical Society and Museum can also see many of the Amateur Circus studies by the talented middle- and high-school students who took part in the art competition.
The Nutley Historical Society and Museum has a wonderful collection of Annie Oakley memorabilia—autographed photos, correspondence from European royalty, period posters, postcards sent to friends in Nutley, pistols owned by Annie and by Buffalo Bill, a coin nicked by Annie at the 1894 circus, and much more.
Music and lyrics for Annie Get Your Gun are by Irving Berlin and book is by siblings Dorothy Fields and Herbert Fields. This NHS Performing Arts production features a cast of Nutley High School students as well as a live orchestra of students and professionals.
The production staff includes Director Austin Vallies, Musical Directors Austin Vallies and Nicole Monte, Assistant Directors Eric Wdowiak and Michael Gurrieri, Choreographer Kristen Driscoll, Set and Lighting Designer James Gardner, and Sound Designer Henry Meola.
Tickets for reserved seats are available for advance purchase at the Nutley High School auditorium on the following dates:
Wednesday, March 1, 5:30-7 p.m.
Saturday, March 4, 3-5 p.m.
Tuesday, March 7, 5:30-7 p.m.
Tickets also available at the door 90 minutes prior to performances (subject to availability). $12 general admission (rows 12 and back)/$15 orchestra circle (first 11 rows). Visit Friends of Nutley Singers - FONS on Facebook or email nutleyfons@gmail.com for more information and updates.
---
Rent the historic first floor of the Nutley Museum for your event
Call Kerry Flynn, caretaker, to rent the hall, 973-667-1528
PLEASE CALL AND LEAVE A MESSAGE BEFORE YOU EMAIL FOR RENTAL AVAILABILITY INFO - Thanks
Seating for up to 70 people. Handicap accessible
Approximate opposing views of historic first floor hall (Annual Christmas Party)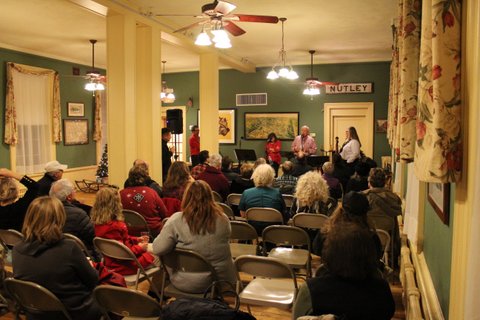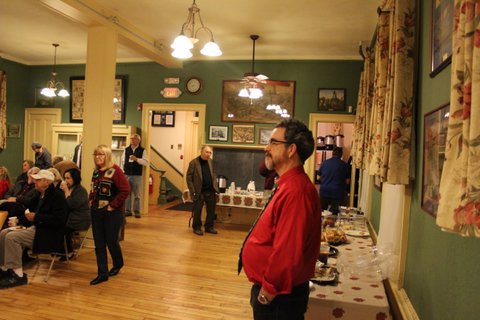 More information on the Nutley Museum, and meeting room rental with photos.
Save time, download forms:
---
Presents
Blooms and Brunch Workshop
Jan. 29, 2017
Whether your thumbs are green or grey, our upcoming Blooms and Brunch – A Flower Design Workshop and Brunch will be a welcomed treat. This workshop is a unique experience that you will enjoy and cherish for years to come. Participants will create Pinterest-worthy centerpieces in a gorgeous design studio setting. Our workshops are a hands-on horticulture experience. Come mingle, design and let your artistic side blossom.
Blooms and Brunch will provide all of the flowers, foliage, vase and floral shears for you to create and take home your own arrangement. Brunch includes fresh fruit, bagels, pastries, coffee/tea, and punch. You must be 21 years of age or older to attend this event. A percentage of the event proceeds will be donated to the Nutley Historical Society.
Nutley Museum Director John Simko looks back at the Nutley Amateur Circus, a colorful fundraiser to help those in need more than 100 years ago. Although this event took place in 1894, it has inspired a local mural competition unveiled later in the year.