Nutley Museum
The Ann A. Troy Gallery
---
Visit the restored "Church Street School", built in 1875 and listed on the National Register of Historic Places. The Nutley Museum brings local history to life with a photography exhibit and memorabilia from Annie Oakley and other prominent Nutley families.
See it all in Person!
---
What's in the Nutley Museum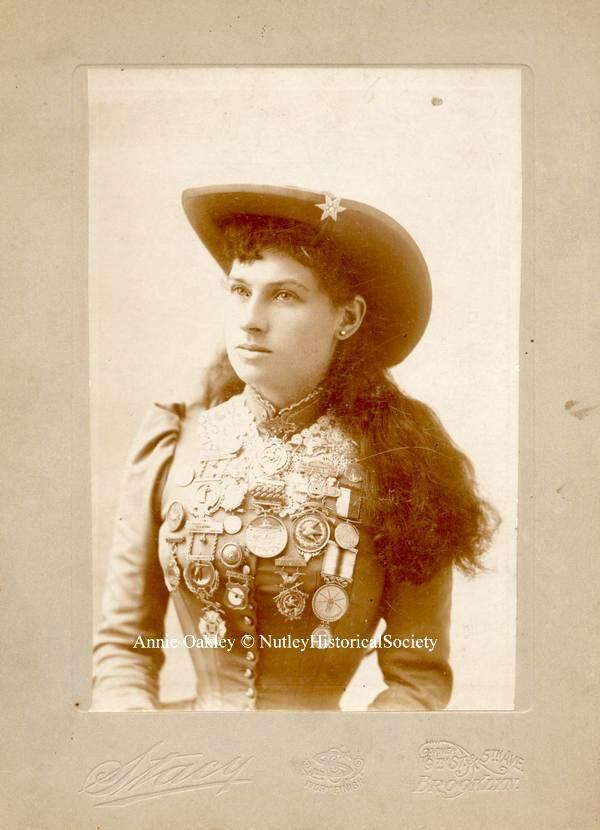 The Ann A. Troy Gallery houses an interesting collection of Nutley Historical items such as guns that belonged to former resident Annie Oakley along with a coin shot by Oakley during a town fair; A Narwahl's tusk brought back from the Arctic during Admiral Robert Peary's expedition in the early 1900s by a former Nutley Mayor Emil Diebitsch who served as Peary's astronomer; The anti collision beacon from the top of the ITT Tower; an old telephone switchboard that was used in town hall until the 1980's; and the first Nutley indoor phone booth that was used in Guthrie's general store.
The first floor of the facility is used as a meeting room and is also available for rent by the public for family gatherings and by civic organizations.

The Nutley Museum is one of the many public buildings that the Nutley Parks and Public Property Department maintains.
The history of the museum is fascinating. The land on Church St was donated to the town by Henry Stager in 1853 (Henry's descendant Eleanor Slomkowski currently serves on the Board of the Historical Society) and a wooden schoolhouse was built. This elementary school burned down in 1874.

The current stone structure was built in 1874-1875 and served as a school until about 1930. Through the 1920s the building served as an Industrial Skills/VO Tech type of school for students from Nutley High School. The caretaker's residence was built sometime between 1949 and 1952 and the Museum Gallery officially opened in 1954.
The museum contains numerous collections including memorabilia from Annie Oakley, the former Guthrie Store, postcards, toys, information on prominent Nutley families, sports memorabilia, original paintings of Nutley scenes and much more!
It also includes the Alice J. Bickers Library which contains over 200 volumes of historical books and maps devoted to the history of New Jersey.
Check Out the 'Camp Nutley' Display
The Nutley base, site of Battery A of the 98th Antiaircraft Gun Battalion, known locally as "Camp Nutley", was some 11 miles from the bridge and its four 90mm guns could fire up to 22 projectiles/minute/gun, radar-guided and capable of being detonated near a target. See layouts and more about the Cold War era, 1952 to 1957, when the U.S. Army had antiaircraft gun bases in our area to defend the George Washington Bridge from aerial attack.
---
Rent the Nutley Museum facilities for your event
Call Kerry Flynn, caretaker, to rent the hall, 973-667-1528
The first floor of the building is still used today as a meeting room for local civic organizations.
Save time, download forms:
Facility rental available year-round.
Members be sure to ask for special rental rate