85th Anniversary of the Velodrome

- June 4, 2018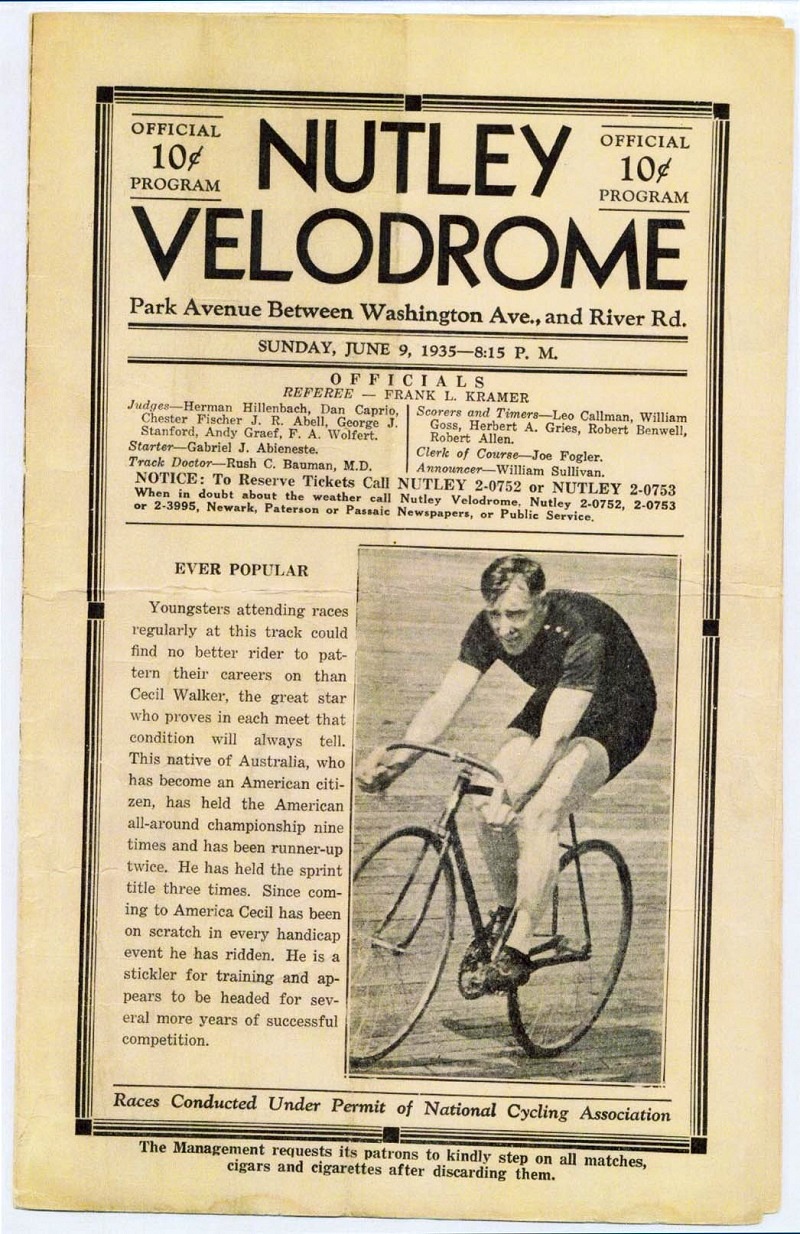 New Jersey Author Michael Gabriele will mark the 85th anniversary of the opening of the legendary Nutley Velodrome

with a program

at the Nutley Museum on June 4, 2018.

Eighty-five years ago, the world's top professional bike riders came to Nutley to compete at the legendary Nutley Velodrome. The cycling track opened on Sunday, June 4, 1933, before a standing-room-only crowd of 12,000 cycling fans. The velodrome was located on Park Avenue, occupying an area where the present-day Little League field and the township's Parks and Public Properties building sits.

Joseph Miele, an entrepreneur from East Orange, stepped forward to fill the void left by the Newark Velodrome, which closed on Sept. 21, 1930. Professional cycling, a popular spectator sport in Newark for more than 40 years, saw its fan base sharply decline during the late 1920s. Miele thought a new velodrome in Nutley could rejuvenate the bike game.

U.S. Olympian Victor Hopkins made his debut at the track on June 7, 1933—the first Wednesday night race at the velodrome, which drew over 7,000 fans. International sprint champion and Newark native Bill Honeman, wearing his eye-catching "Stars and Stripes" racing outfit, made his first appearance at the Nutley track on June 14, 1933, winning the one-mile pro race.

The velodrome enjoyed success during its first two seasons, but by 1935 the fan base declined, much like it did at the Newark track. On Sept. 15, 1940 the Nutley Velodrome closed its gates for the last time. The golden era of U.S. velodrome cycling came to an end and the track was demolished in February 1942.

Gabriele is a member of the executive board of the Nutley Historical Society. In 2011, he wrote a book titled "The Golden Age of Bicycle Racing in New Jersey," published by The History Press, which detailed the history of professional bicycle racing in the Garden State. His book will be available for sale following the program.
---
A not-for-profit organization dedicated to serve the educational, cultural and historical needs of our community.
65 Church Street, Nutley N.J. 07110
973-667-1528
Copyright & Reprint Information
Contact Room Rental, via phone, not email, Call 973-667-1528
Official Web Site
Nutley Historical Society
Follow/Like Us on Facebook
Check-in When You Visit