Riverside dairy farm survives fire as 70 hysterical cows
are led from burning barn, 100 firemen fight flames
---
Milk, a widely consumed beverage, has been pasteurized, homogenized, flavored, and used as an ingredient in many recipes. Nutley had several dairies that were in business through the 1950s.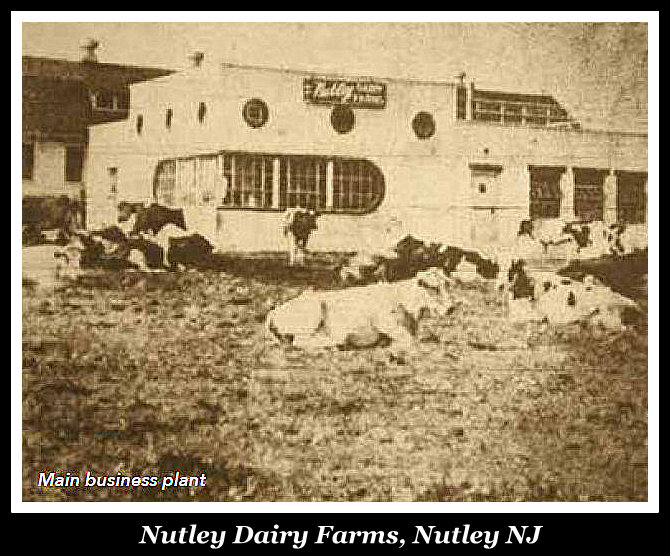 The Nutley Dairy Farms at Park Ave. and River Rd. supplied 2,000 quarts a day to area restaurants, stores, and delicatessens. Manuel and Sidney Steinlauf managed a herd of 70 Holsteins and Guernsey cows on the five-acre property which included two barns and a small processing plant. The work was tedious, with long hours and manual labor needed to return cows from fields to feed and milk them.
On July 16, 1951, at 8 pm, tragedy struck the dairy when an exhaust fan malfunctioned in the barn. Two employees at Aircraft Supplies Inc., 44 Park Ave., saw smoke emanating from the fan and immediately sounded the alarm.
The flames were over the roof in a matter of minutes and 100 firemen under the leadership of Chief Andrew Hutch labored for an hour to control the flames at this two-alarm fire. To make matters worse, the entire herd had just been tied to their stanchions for the night. Each of the hysterical 70 cows, blinded by smoke and heat, had to be untied by hand and led out to the fields.
Employees, firemen, and neighbors all pitched in to help with the rescue operation, knowing that each cow was valued from $400 to $500 apiece. Some cows broke away and fled into the neighborhood; others panicked and ran back into the barn. Edward Muncheberd sang and played his harmonica to calm the maddened cows.
One more twist occurred as North Arlington launched a gigantic fireworks finale during the blaze and further upset the cows that had escaped. The 800 spectators saw fire, firemen, and fireworks all at one time!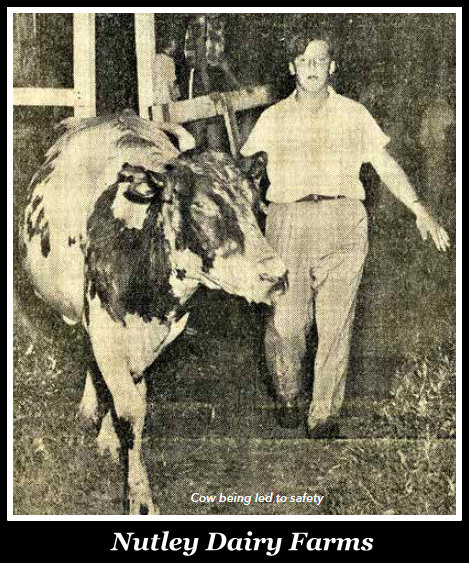 Two firemen were overcome by smoke and had to be revived at the scene. The 60x100 foot barn with milking equipment was destroyed.
Financial losses were set at $100,000. The lives of 28 cows were lost either to the roof collapse or smoke poisoning.
Remarkably, 17 cows were saved by veterinarians using modern drugs, including penicillin, terramycin, and streptomycin. 42 survivors were moved to other barns and the dairy met their delivery schedule two days later.
These Nutley Fire Department stories, while tragic, help us to appreciate the hardworking families that had businesses in town and the struggles they faced.
We can further appreciate the sacrifices of our firefighters, both volunteer and career. Their time, energy, and planning helped keep families safe year-round. Factories, businesses, and the jobs within were saved numerous times. Innovations in equipment, staffing, fire prevention, and firefighting techniques started over 120 years ago when we were called Township of Franklin.
Some of these stories come from the Captain John Frobose scrapbook that was recently digitized. Newspaper articles were clipped from the Nutley Sun, Passaic Herald-News, the Newark Star-Ledger and the Newark Evening News. Some stories are one paragraph and others are multiple pages, but they are all part of Nutley history.
---
Reprinted from Nutley Neighbors, January 2020; Best Version Media
A community magazine serving the residents of Nutley, N.J.
David Wilson is the author of "Fire in Our Lives"
---
Read more: