All of the essay contest participants penned impressive insights into the importance of recognizing and preserving local history.
---
NUTLEY NJ - The Nutley Historical Society named Nutley High School seniors Ibraham Elnaggar, Emily Ostrowski, Meredith Carson as the winners of the organization's annual history essay contest. The students received their awards during a ceremony at the high school on June 14.
All of the essay contest participants penned impressive insights into the importance of recognizing and preserving local history. They also reflected on how local history has enriched their awareness of community spirit and culture.
"I stumbled upon how, in 1894, Annie Oakley and Henry Cuyler Bunner, a renowned author and editor of the famous Puck magazine, spearheaded a community effort to benefit the American Red Cross with a performance of the Nutley Amateur Circus," Elnaggar wrote in his first-place essay. "Held at Eaton Stone Circus headquarters on Kingsland Road, prominent residents volunteered as performers and roustabouts. Later, in 1917, Col. H. G. Prout, editor of the Railroad Gazette, became the first president of the Nutley Red Cross when it became affiliated with the American Red Cross.
"This historical fact about Nutley explained to me the nature of volunteering service in this town," Elnaggar continued. "Nutley has been recognized as a town blessed with residents who take an active role in maintaining and improving the quality of life. This spirit of volunteerism has been demonstrated by many of Nutley's distinguished residents. I have personally volunteered in many different aspects of Nutley."
Ostrowski, in her second-place essay, wrote that she is "proud of the advancements that this town has made, and that the information about its history is so accessible due to Nutley's very own historical society. Historical societies make sure that heroes and significant figures receive the recognition that they deserve. Their legacies and remarkable accomplishments deserve to be celebrated. Whether they are important to the history of a small area or the nation as a whole, their achievements deserve to be honored. And they are not only protecting the legacy of important individuals. They protect valuable architecture with historical value from being destroyed.
"Historical societies have played a very crucial role in the preservation of important history and landmarks in many towns across America. They possess so much knowledge about the region and the history of it, and can give us crucial information about the people here before us—their triumphs, and sometimes their defeats. It is more than fun artifacts (although that is a part of it). It is about preserving the voices from the past, and making sure that they are heard and valued in modern-day society."
Carson, in her third-place essay, shared her memories of visiting the Nutley Museum, and how she was inspired by the life and career of the world-famous, one-time Nutley resident Annie Oakley. "When I was a young girl, I visited the Nutley Museum a few times. My parents brought me and my sisters to the ice cream socials the Historical society hosted there. My class and I walked from Lincoln School to the museum on a history field trip. And my Girl Scout troop and I visited the museum for a private tour. This was my most memorable trip to the museum. We looked at all the different artifacts and items the museum holds, and I appreciated the pieces of town history displayed throughout, but since it was a Girl Scout trip, we focused mostly on Annie Oakley and the time she spent in Nutley.
"I was fascinated by the photos of her. Seeing those photos and her guns were my favorite parts. The idea that she had actually used those guns during her sharpshooter shows was the coolest thing ever to elementary-school-aged Meredith. Because of her travels around the world with Buffalo Bill's Wild West Circus, many people know about Annie Oakley, and many girls look up to her. After that visit to the museum, I looked up to her too, but it felt extra special to me, like we had a connection since she once lived in the same town as I do. She became somewhat of an idol, and I spent time learning all about her. The idea that a girl from Nutley could defy expectations made me feel proud of my town and made me want to be like her."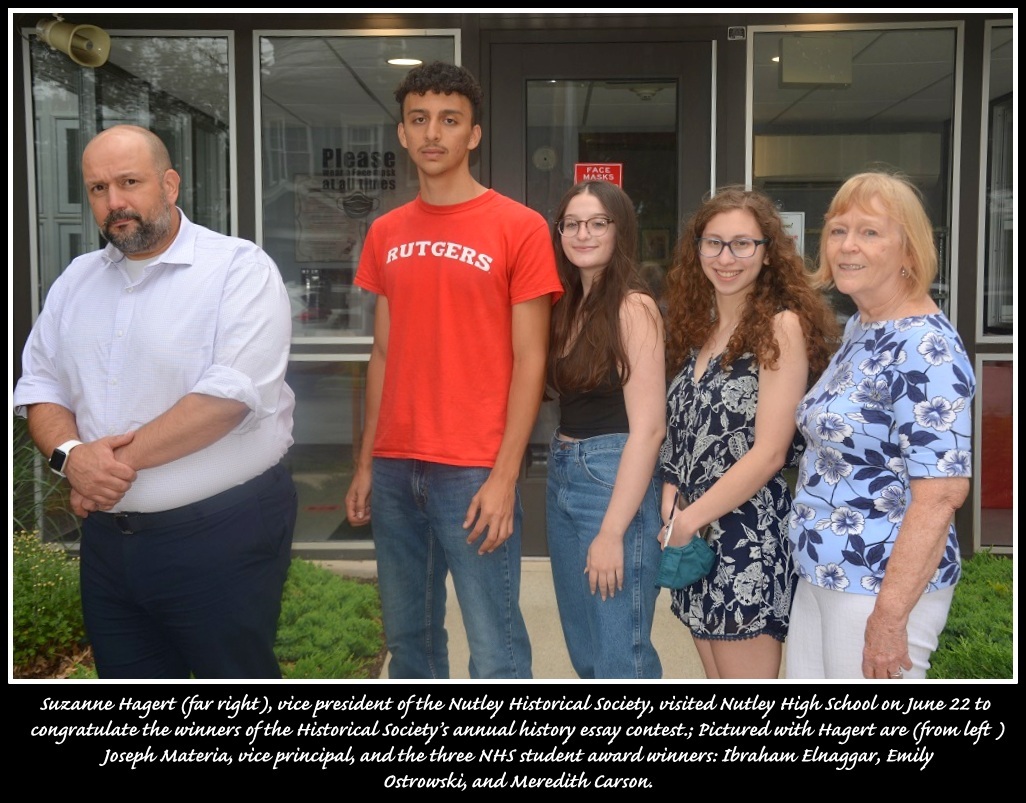 The three seniors will be continuing their educations this fall. Elnaggar will attend Rutgers University Business School, Newark; Ostrowski is headed to the University of Delaware, Newark, DE; and Carson is enrolled at Stephens Institute of Technology, Hoboken. Denis Williams is the principal of Nutley High School.
Suzanne Hagert, the vice president of the executive board of the Nutley Historical Society, and a former teacher in the Nutley district school system, managed the annual essay contest. "Each year we enjoy reading these essays from our high school students," Hagert said. "My colleagues and I are always impressed with their observations and their understanding of why local history is so important to our community. We thank Nutley High School for supporting this program."
Domenick Tibaldo, president of the Nutley Historical Society, congratulated the three students and offered words of praise for their efforts. "It's wonderful to see that young people still maintain an interest in their local history and that they are eager to learn about historical facts, people and their accomplishments. Also, these students learned about volunteering to help their neighbors and about having pride in their home town. I wish them all well in their future endeavors and hope that someday they return to Nutley and join the Nutley Historical Society."
Founded in 1945 and located at 65 Church Street, the Nutley Historical Society is a not-for-profit organization dedicated to serving the educational, cultural, and historical needs of the community. Covid-19 health concerns forced the organization to shutter the museum and cancel most of its popular programs—such as the Memorial Day "Walk in the Park" history tour, ice cream day, our October open house and pumpkin day, and the Christmas concert—for most of 2020 and the first half of this year. However, the Historical Society has been working behind the scenes with the hope of reopening the museum and unveiling new events in the coming fall season. Check the group's website (nutleyhistoricalsociety.org) as plans unfold.
In addition to Hagert and Tibaldo, members of the organization's executive board include John Simko, museum director; Eileen Luberto, secretary/Annie Oakley historian; Maryann Lauber, treasurer; Patricia Williams, Van Riper historian; Barry Lenson, art historian; Mike Petrucelli, director of building and grounds; Eleanor Slomkowski, membership director; Michael Frobose, genealogy chairman; Rose Mary Valese, publicity director; and Michael Gabriele, Nutley Velodrome historian and member at large.
(Gabriele is a member of the executive board of the Nutley Historical Society.)
---
IN PHOTO: Suzanne Hagert (far right), vice president of the Nutley Historical Society, visited Nutley High School on June 22 to congratulate the winners of the Historical Society's annual history essay contest. Pictured with Hagert are (from left) Joseph Materia, vice principal, and the three NHS student award winners: Ibraham Elnaggar, Emily Ostrowski, and Meredith Carson.
A not-for-profit organization dedicated to serve the educational, cultural and historical needs of our community.
65 Church Street, Nutley N.J. 07110
973-667-1528
Copyright & Reprint Information
Official Web Site
of the
Nutley Historical Society
Like Us on Facebook
Check-in When You Visit
---
Web site development & maintenance
provided at no cost to Nutley Historical Society, sponsored by:
Links are subject to change
---