Let's pretend we're in Nutley on a bright summer day in 1938. It's a perfect day for golf, so you toss your clubs into your Packard or Ford and motor off to play a round on one of the most beautiful golf courses in America.
And you don't need to leave Nutley to do it – you're just driving down to the Yountakah Country Club on Washington Avenue.
Yountakah had it all, including a challenging 18-hole golf course, an elegant clubhouse, and even a swimming pool.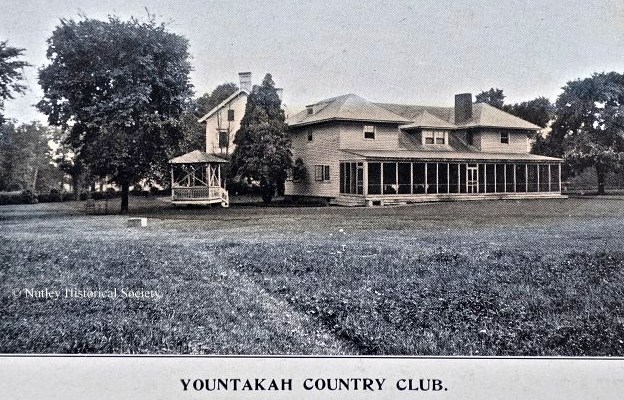 This was living! Don't we all wish it was still there today?
When Nutley Was Heaven for Golfers
The club was founded as the Nutley Golf Club in 1894. Five years later, it took its new name, which is based on the Lenni Lenape word for "Gathering Place" – the same word that lent its name to Nutley's Yantacaw School.
The course occupied 126 acres that bordered River Road, Kingsland Avenue, Washington Avenue and White Terrace. A 1934 map shows seven holes and the clubhouse on a parcel of land that bordered River Road, Kingsland Avenue, Washington Avenue and White Terrace.
The other 11 holes were located across Kingsland Road. Over the years there were three different clubhouses.
Fire destroyed the first two in 1917 and 1923, but then members pooled their resources and spent $125,000 on an elegant new clubhouse, designed by Clifford Wendehack, who also designed clubhouses at courses in Ridgewood and Bethpage.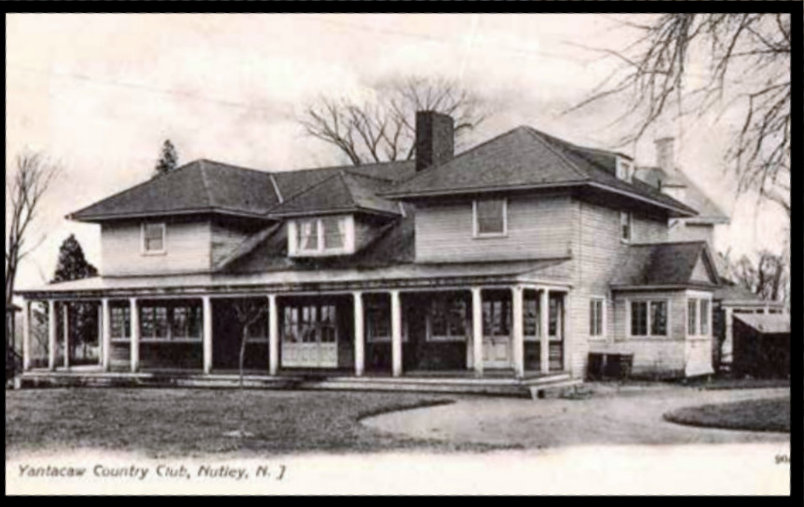 The new clubhouse, situated at the end of a long rambling driveway, hosted annual Harvest and Christmas balls, as well as nightly dining for members. It was definitely the place to be for those with the means to join.
According to the New Jersey State Golf Association, Yountakah is still considered one of the greatest golf courses ever to exist in our State.
Great Golfers Come to Nutley Over the years, golfing legends came to play the course too. In a charity exhibition game in 1924, golf legends Gene Sarazen and Johnny Farrell defeated Yountakah pro Jack Beckett and Englewood pro Cyril Walker in a game that attracted hundreds of Nutleyites.
According to the New Jersey State Golf Association, Yountakah also hosted two New Jersey State Opens. The first of them, in 1939, was won by "Long Jim" Barnes, a World Golf Hall of Famer who had won four majors, including the U.S. Open (1921) and the British Open (1925). Yountakah closed its doors in 1943.
America's young men were too busy winning World War II to play golf. The property was sold to ITT, where its clubhouse served as a dining hall and meeting center until it was demolished in 1996. The pool was still in use in the 1960s, when the Nutley Red Cross gave swimming lessons there.
If you take a walk along River Road on a quiet night and you think you hear the "thwack!" of a golf ball being hit in the distance, don't be surprised. It's just another echo of Nutley history that we can still hear today.
---
Reprinted from Nutley Neighbors, August 2017; Best Version Media
A community magazine serving the residents of Nutley, N.J.
---
Read more:
A not-for-profit organization dedicated to serve the educational, cultural and historical needs of our community.
Founded 1945
Our 75th Year
65 Church Street, Nutley N.J. 07110
973-667-1528
Copyright & Reprint Information
Contact Room Rental, via phone, not email, Call 973-667-1528
Official Web Site
Nutley Historical Society
Follow/Like Us on Facebook
Check-in When You Visit
---
Web site development & maintenance
provided at no cost to Nutley Historical Society, sponsored by:
Links are subject to change
---